You may remember that a short time ago we ran the first in our series of tips for an active paddle boarding winter. In fact, you can read the opening gambit where we talked to Nathalie Van Olmen of Kempen SUP right here.
'But where are we off to for part two?' I hear you ask.
Well, it's actually two places that know a true cold winter will seasonally fall across their awe-inspiring landscapes and invoke those winter spirits that walk the wild coasts, crystal lakes, and tumbling rivers. Both are glorious, rugged places filled with myth and legend.
We're off to Wales and the Midlands! Where, of course, we spoke to two of those legends. Island SUP mastermind, Kerry Baker, and Central SUP wizard and ASI CEO for the UK and Ireland, Chris Kenyon.
Kerry Baker is the ASI instructor behind Island SUP. Her school is a focal point in the Barry Island community, and her love of the ocean has taken her around the world. Now, with roots firmly planted in this beautiful part of Wales, she is no stranger to the art of a winter paddle. During lockdown, Kerry was instrumental in keeping the spirits and fitness levels of her school members raised by running regular Zoom meet-ups and online exercise classes. It proved a priceless resource during difficult times.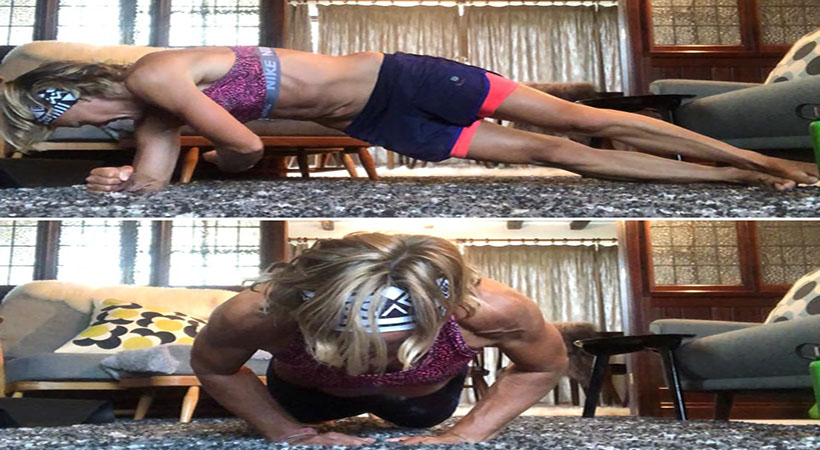 However, today she discusses ideas to help paddlers stay in tune between those chilly winter SUP sessions.
We first talked about the critical element of staying physically in tune for paddling.
'During the darker, colder months,' Kerry begins, 'when we have fewer opportunities and it feels less inviting to get out on the water, here at Island SUP we like to mix it up.
'Whether that be cross training such as swimming, cycling and running, or strength and conditioning sessions both at home and in the gym.
'Have you ever tried making dinner while using a balance board or bosu?' She asks.
I have to sadly admit to never having tried that, and for fear of throwing my dinner all over the kitchen walls, may still decline for the moment. However, it must be noted that my own skillset is considerably below even the below average paddler. And Kerry is definitely not your average paddle boarder.
With my kitchen walls dinner free for now, we move on to the need to ensure the core remains strong and flexible during winter's lull.
'The down season is a great time to work on your core strength and flexibility, we enjoy a mixture of yoga and pilates.
'There are loads of great SUP focused exercises and stretches out there which will keep you well-oiled during the winter and leave you ready for a fantastic 2022 season.
'Attempting to find that perfect balance for you is a life journey which is in a constant state of flux. Again, these skills can be improved during everyday tasks. Can you balance on one leg while doing the dishes?'
Despite at this point starting to feel like my future holds a guaranteed kitchen nightmare, I can see the wonderful simplicity in tweaking an everyday activity into something that will benefit future SUP sessions and overall personal fitness and tone.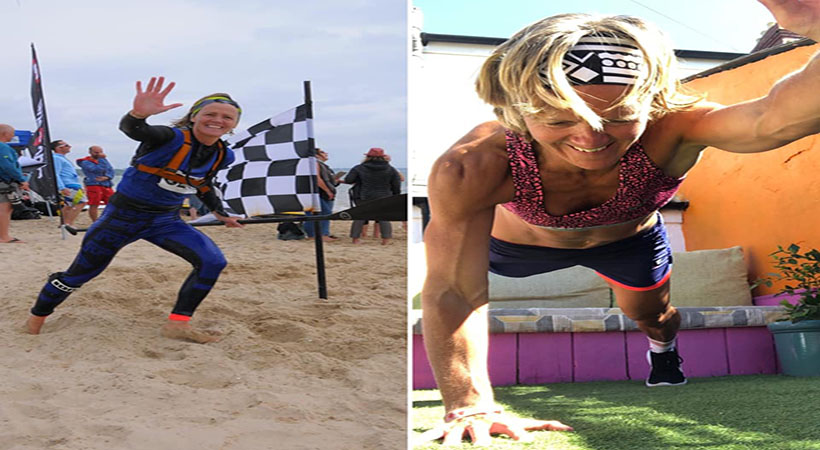 Despite the necessity to stay in as good a physical condition as possible during any increased downtime – and let's face it, when days become shorter and the opportunities to paddle into the late evening and beyond quickly melt away, downtime can be frequent – not every activity needs to be fitness centered.
Kerry talks about the beauty of gathering together for a far more relaxing, yet educational, experience.
'Cosy nights are also perfect for some screen time. Film you and your peers then spend an evening analysing and supporting each other to make progress with your paddle stroke or SUP surf top turn for example.
'It is also inspiring and educational to watch your heroes shredding the race course or tearing a wave apart on YouTube! So play, pause, rewind, play again, make some notes and then go try it out.'
Another solid plan. Video analysis within sport has long been a crucial part of improving ability and rectifying bad habits. To be able to do this away from the cold with a group of peers seems like an evening very well spent. Tie in the diminished opportunity to get out on the water and it seems ideal to fill some of those darker nights with encouraging, inspirational, and bad-habit breaking screen time.
Leaving Kerry to prepare for another chilly winter in Wales, we head further inland where in the heart of the Midlands we find, Chris Kenyon and Central SUP, a school that has become a real jewel in the crown of UK SUP.
And in terms of staying in tune during the cold bite of winter, where Kerry offered some dry alternatives, Chris talks about the benefits of continuing to paddle, but taking the experience indoors to a local heated pool.
Chris says, 'Paddling doesn't necessarily have to stop in the winter. The water might be cold outside but indoor pools can provide an excellent space to carry on with your sup activities.'
Indoor SUP sessions! In water heated to perfection! Now this is something I can get on board with…excuse the pun. Tell me more.
'At Central SUP we will do a beginner lesson with smaller groups as indoor pools tend to be smaller due to availability and cost. The advantage of this is that your participants will usually be more confident as they are not as afraid to fall into a warm pool. This really helps with getting them to progress in their basic skills like turns and wipe outs.
He continues, 'Pools can also be an excellent place for some more fun based SUP activities such as SUP Polo and SUP Yoga. There does need to be some careful risk management with Polo as it can be a contact sport so make sure you have the right safety guidelines in place before attempting to do it. Helmets are an absolute must! SUP yoga has become very popular over the last few years and a swimming pool can provide a perfect place to do this. You do need to think about your logistics such as how to tether the boards, however.'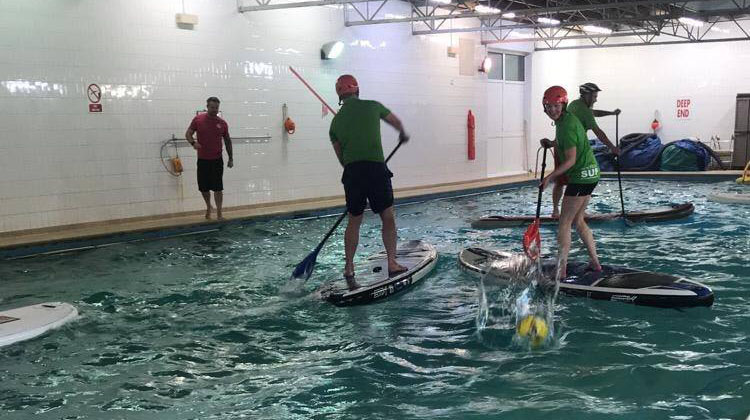 But once those logistics are in place and helmets firmly strapped onto heads for the Polo matches, it seems the indoor pools dotted throughout the world can be a genuine home for paddlers seeking to stay in tune when the colder water outside might seem a step too far.
Chris finished by adding, 'In short, a swimming pool can be an excellent place to offer your SUP activities. With the right planning and risk assessments you can have a really good (and warmer ) time!'
In fact, these indoor sessions are something approved by Central SUP and Island SUP who both enjoy mixing things up over winter and taking the fun to the heated pool where the only thing getting iced is the post-session latte in the cafe. Sounds good to me.
And with that, Chris is off to prepare for a heady winter's mix of frosty open air paddles and humid indoor pool sessions. Both Chris and Kerry have left me with more great ideas under my belt and hopefully you too will find some inspiration to keep the paddling rust at bay when winter is at the door.