ASI Trainer: Stevie Boyle
Trainer Level
ASI Level 2 SUP Trainer (Flat Water)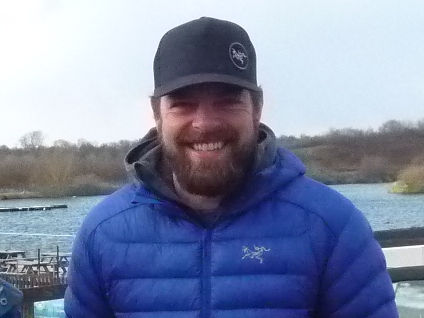 Qualified to Train:
ASI Level 1 SUP Instructor (Enclosed Flat Water)
ASI Level 2 SUP Instructor (Exposed Waters)
ASI SUP Water Safety Rescue Award
About Stevie
Stevie has been an outdoor pursuits instructor and youth worker for 20 years, including managing activity centres.
A good portion of that time was spent in a wetsuit in the sea or Loch or a Canyon. He is a stand up paddler, surfer, climber, mountaineer, trail runner, mountain biker, skateboard rider, wakeboarder, both at work and in his spare time.
Stevie works for a charity called Strive, based in Scotland, where he is Head of Adventure. Strive runs personal and social development courses and their main clients are people aged 8 to 18.
Stevie is an experienced trainer and assessor - training SUP instructors, Coaststeering instructors and is a trainer/assess for Surf Lifesaving courses. He is also the Scotland East Coast representative for the National Coasteering Charter.

Stand Up Paddle Experience
Supping since 2010, in Scotland and locations around the world
SUP Surfed Scotland east coast, Northumberland as well as the outer Hebrides. California (Santa Cruz area) and Australia. Flat water paddling including distance paddles 10km plus.
Scotland based, extensive knowledge of the East Lothian Coast line, using the lochs and rivers of the Lomond and Trossachs national park, Mull, Ardnamurchan and Harris

Coaching and Training Experience
Trains ASI Stand Up Paddle instructors in Scotland and other locations
Personal coach for SUP paddling skills
SUP Instructor: beginner to advanced levels (flat water and exposed waters)
Head of Adventure, Strive at Scotland, offering a range of adventure activities, and SUP School activities
Trains people to be surf lifesaver
Trains people to be coaststeering instructors
Volunteer trainer at the Dunbar surf lifesaving club.
Facilitates a trainee instructor scheme, through Strive.
Writes and maintain STRiVE adventure risk assessment and maintain AALA license since 2004
Delivers CPD training as East Coast Representative for the National Coasteering Charter.

Qualifications
ASI Level 2 SUP Trainer (Flat Water)
ASI SUP Rescue Trainer (Flat Water)
ASI Level 1 Stand Up Paddle Instructor (Enclosed Flat Water)
ASI Level 2 Stand Up Paddle Instructor (Exposed Waters)
ASI SUP Instructor Water Rescue Award (Flat Water)
Coasteering Guide Trainer (BRAWA and NCC)
Surf Lifesaving Great Britain (SLSGB) Trainer/Assessor
SLSGB Surf Life Guard qualification (UK highest lifeguarding qualification).
First Aid certificate
Mountain Leader (SML)
Mountain Instructor Award (MIA)
Winter Mountain Leader (WML)
Single Pitch Rock Climbing Instructor (SPA)
Mountain Bike Leader (TCL)
Coasteering Guide
East Coast Rep for the National Coasteering Charter

Location
East Lothian, Scotland UK

Ph Mobile: +44 7896793009
Email: stevie@strive.me.uk