ASI Trainer: Sarnia Rose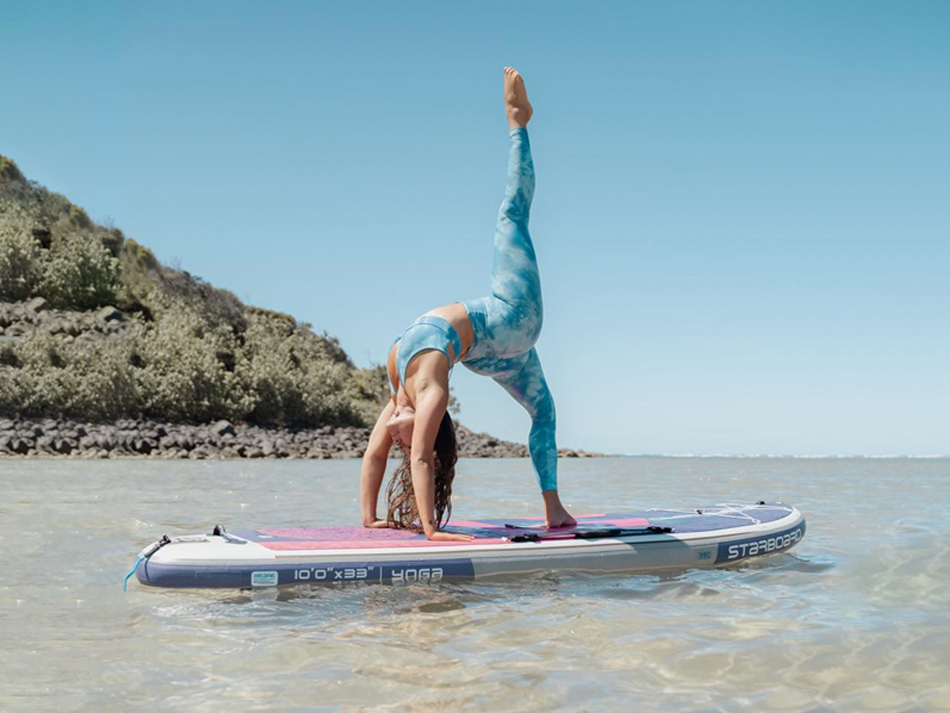 Qualified to Train:
ASI SUP Yoga Teacher
ASI SUP Wise
About Sarnia
Sarni'a Rose has been paddling since 2010 from the Northern Beaches of Australia through to tropical North Qld's Hamilton Island and The Whitsundays. She has now settled on the Gold Coast, Qld and Northern Rivers of NSW.
An ocean enthusiast volunteering for Protect the Coral Coast and WWF Osprey Reef's Reef Sharks at a very young age and now working alongside Surf Rider Gold Ccoast and reducing the consumption of plastic through their ocean friendly program.
Her background extends from surfing, scuba, SUPing, deep sea fishing, free diving and more.
Her favourite spot to log include Noosa, Greenmount and Cabarita as well as travelling to the favourite spots though Hawaii and the South Pacific.
Other sports include gymnastics, trail running, cycling, snowboarding and basically anything extreme have now been traded for the likes of pilates, yoga, qi gong as well as her SUPing and longboarding.
Sarnia owns Pure Aloha based on the beautiful Tallebudgera Creek, delivering SUP Yoga and stan dup paddle board lessons and tours. With a background in events and weddings, she loves organising nourishing retreats on the Gold Coast as well as hens and bucks parties. Making special memories on the water.
Through her SUP School, Sarni'a has delivered thousands of classes throughout the years, delivering a high standard with care and love to each class and experience at a five star level. Sarni'a mentors her staff and guides them to where they want to go in life, who some now work and live in some of the dreamiest locations, such as the Maldives.
Sarni'a and the team at Pure Aloha have gained a large media following being featured on Sunrise, Totally Wild, 7News, Jetstar, Air NZ inflight Magazine, RACQ, Little Grey Box, Economy Traveller, MindFood, The NZ Herald, Escape, SUP Connect, Japan TV, GC Bulletin, We are GC, Boat GC, Delicious, Jono& Ben Show, Sunday Age, Qld Weekender, Inside GC, Australia Campaign, First Class Holidays, Paddling Magazine, Weekend Australia, Come + Play, Travel Today, LocalYokl and more …
Sarnia's passions are working with kids and women to build better confidence and safety on the water whilst providing a safe and nurturing environment for them. Enabling them to carry their love and skills with them through their lifetime and finding connectedness with the earth's oceans.
Reducing the carbon footprint of her family, her business and others by providing educational lessons to her clients. Organising and conducting creek and beach cleans and working together with Gecko Environment Council Association by running events. Working with those who have disabilities and providing water therapy and accessibility to those who are unable to have beach or water access.

Stand Up Paddle Experience
SUP'ing and SUP Yoga'ing since 2010, in and around Australia as well as the South Pacific, Hawaii, Fiji, US, Mexico and more ..
Owner and Instructor of Pure Aloha (SUP Yoga and SUP sessions) – SUP School since 2016 on the Gold Coast, Australia

Coaching and Training Experience
Australian Representative in Women's Artistic Gymnastics
Advance Gymnastics Competitive Coach – Levels 4-10 National Level
Advance Gymnastics Competitive Judge
Personal Trainer
Yoga Instructor – inc. Kids, Prenatal + Postnatal Care
Owner and Instructor of Pure Aloha Yoga + SUP, SUP school, since 2016

Qualifications
First Aid + CPR
Indigenous Plant Medicine Practitioner
Hula + Aloha Spirit Guide
Surf Rescue
200hr Yoga Teacher Training
Advanced Gymnastics WAG Coach
Advanced Gymnastics WAG Judge
Certificate 3 + 4 Fitness
Certificate 4 Athlete Support Services
Diploma of Events
PADI Open Water Scuba Instructor Certificate

Location
Gold Coast, Queensland, Australia
Northern Rivers, NSW, Australia