ASI Trainer: Rebecca Dunning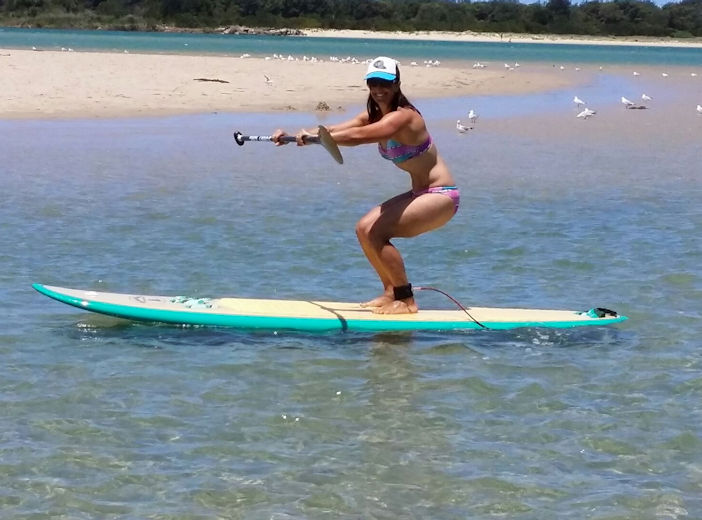 Qualified to Train:
ASI Level 1 SUP Instructor (Enclosed Flat Water)
ASI Level 2 SUP Instructor (Exposed Waters)
ASI Level 3 SUP Instructor (Beginner Surf)
ASI SUP Water Safety Rescue Award (Flat Water)
SUP Wise for Instructors
ASI SUP Fitness Instructor Level 1 & Level 2
About Rebecca
Bec has lived and breathed sport throughout her life. She has worked in the fitness industry for over 10 years. Her current roles include Gym Operations Manager, Personal Trainer, Food Coach, Functional Fit and Bootcamp leader and SUP Fitness Instructor/Trainer.
She became the first person to be SUP Fitness certified (ASI) in Australia, and now trains other SUP Instructors to be able to teach SUP Fitness.
Bec discovered her love of the ocean at the age of 13. She won 2 National Body Boarding Titles & competed for Australia at the World Surfing Games, Huntington Beach California in 1996. Travelling & surfing has been a way of life, having surfed in Hawaii, most of the South Pacific and around Australia.
Not wanting to limit herself to one type of watercraft, Bec now rides bodyboards, short boards, long boards & SUPs (both flat water & surf). She has even rowed surf boats at a national level.
Bec holds Cert 3 & IV in Fitness & is registered through Fitness Australia. She has attended Filex Fitness Conventions since 2008, keeping up to date with the latest research in fitness, business, nutrition, & mindset. Bec is accredited through Punchfit to instruct both punch & kick. She gained her Surf Life Saving Bronze medallion in 2006 and has backed this up with yearly proficiencies.
Bec explains, "It's one thing to be doing exercises on the gym floor, but your core REALLY kicks in once you also have to balance on a board on water!"
Being a lover of the great outdoors, Bec has been able to give her clients a workout on water.
SUP Fitness utilises the entire body. The extra balance required to be on the water intensifies even basic fitness routines. Strength workouts include anything from squats and push ups to burpees and clean and presses. Boards are able to be anchored, resistance bands used for both push & pull exercises, & the heart rate soars with cardio.
Bec takes anyone from beginners to the strongest of gym users. Sessions can be low to high intensity. Exercises can be modified from easy to intense. It may be a fitness session, but participants are going to have a lot of fun whilst in a beautiful environment.

Stand Up Paddle Experience
Stand up paddle boarding since 2012
Experienced supping at enclosed flat water, exposed waters and surf
Experienced at SUP fitness

Coaching and Training Experience
Trains ASI Stand Up Paddle Fitness instructors in Australia.
Head Coach SUP Fitness school delivering SUP paddle lessons and SUP fitness sessions
Personal Fitness Trainer

Qualifications
ASI Level 1 Stand Up Paddle Instructor (Enclosed Flat Water)
ASI Level 2 Stand U Paddle Instructor (Exposed Waters)
SLSA Bronze Medallion since 2006 to current
Advanced Resuscitation Certificate
Senior First Aid Certificate
NSW Working with Children Check
Certificate of Sports Performance Nutrition
Certificate in Child Nutrition
Diploma in Personal Nutrition

Qualifications-Fitness
ASI SUP Fitness Trainer
ASI Fitness Instructor (Foundation Skills) Level 1
ASI Fitness Instructor (Intermediate-Advanced) Level 2
Level 3 Fitness Personal Trainer
Level 4 Fitness Personal Trainer
Punchfit Trainer Level 1
Punchfit Punchpad Instructor Level 1
Punchfit Kickpad Instructor
Certificate of Exercise Programming for Women
Filex Fitness Conventions since 2008
Registered through Fitness Australia

Location
Shellharbour, New South Wales, Australia
ASI Instructor Training Centre: Stand Up Paddle Boarding Shellharbour