ASI Trainer: Melinda Behumi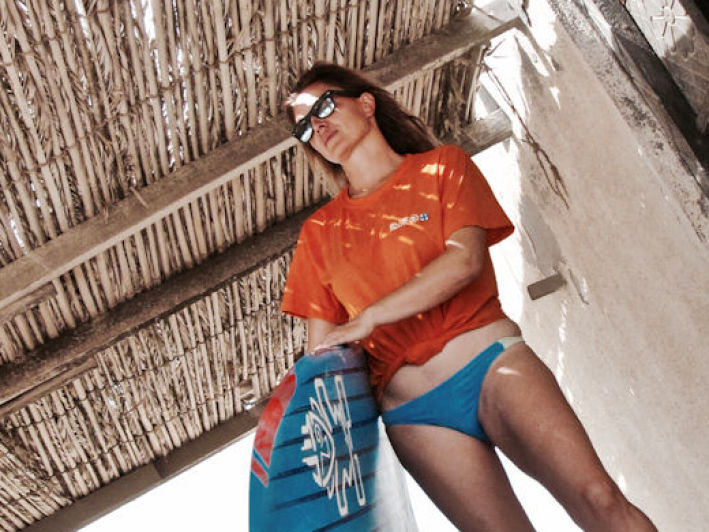 Qualified to Train:
ASI SUP Yoga Teacher
ASI Level 1 SUP Instructor (Enclosed Flat Water)
ASI Level 2 SUP Instructor (Exposed Waters)
ASI SUP Water Safety Rescue Award (Flat Water)
ASI SUP Wise for Instructors
About Melinda
Melinda Behumi is an experienced paddler based in Qatar, the Middle-East. Her passion turned into an obsession which then had her leaving a management job in marketing and opening Qatar's first SUP school QSUP. She now leads the largest watersports and eco adventure education centre, Blue Pearl Watersports, in the region with her partners.
Committed to developing the paddling scene, setting safety standards with authorities and working closely with educational organizations to involve kids, youth into the sport are her focus. Melinda has delivered thousands of hours of SUP instruction to a wide range of students from private sessions to large school groups and corporate team building sessions.
Building on over 15 years of professional marketing experience she co-manages the Blue Pearl team with the responsibility of designing custom training programs that engage different client segments with a key emphasis on differentiated teaching techniques.
Trained by ASIs master trainers since the beginning she has always worked closely with the organization and shared the vision of the ASI family.
Coming from an athlete background with several injuries she was introduced to paddling for therapeutical reasons and 6 years later is an avid downwinder, long distance paddler, SUP yoga practitioner and participates in local races (fastest timings in the women's category).
She is passionate about sharing a mix of assertive and body and mind conscious teaching methods and business savviness to run a successful SUP operation.
Yoga
Melinda experienced the transformational power of yoga while recovering from several athletics related injuries, gaining her strength, mobility, focus back with extensive practice and studying of the yoga tradition. She today teaches traditional Hatha Yoga, advocating the practice being beneficial for all abilities, body types and backgrounds, its empowerment through aligning breath, movement and the mind.
RYT 200 Hatha Yoga Teacher, Dharamsala India, by Yogalife (2010). Registered yoga teacher at Yoga Alliance.
Teacher Certificate in Advanced Rocket Vinyasa by It's Yoga Thailand. 100hrs in bandhas, breath and dristi, while exploring beginners modifications and advanced variations on all 140+ poses of the It's Yoga Ashtanga System.
Freelance Interpreter for the Himalayan Yoga tradition Hungary at conferences on the teachings of the Yoga Sutras.

Stand Up Paddle Experience
Stand up paddling since 2009
Experienced supping and racing in enclosed flat water and exposed waters locations in the Middle East
Competes in local SUP race events
Praticising SUP Yoga since 2009

Coaching and Training Experience
Trains ASI Level 1 and Level 2 SUP Instructors in the Middle East.
Owner of stand up paddle school, Blue Pearl Watersports based in Doha, Qatar.
Stand Up Paddle Instructor since 2011.
Creates and delivers custom SUP and Watersports learn to and activity programs.
Yoga teacher

Qualifications
ASI Level 2 SUP Instructor Trainer
ASI SUP Rescue Trainer (Flat Water)
ASI Level 1 Stand Up Paddle Instructor (Enclosed Flat Water)
ASI Level 2 Stand Up Paddle Instructor (Exposed Waters)
ASI SUP Water Safety Rescue Award
Surf Rescue (International Life Saving Federation)
Emergency First Response First Aid
PADI Diver

Qualifications - Yoga
ASI SUP Yoga Trainer
RYT 200 Hatha Yoga Teacher, Dharamsala India, by Yogalife (2010)
Registered yoga teacher at Yoga Alliance.
Teacher Certificate in Advanced Rocket Vinyasa by It's Yoga Thailand.
Freelance Interpreter for the Himalayan Yoga tradition Hungary (Yoga Sutras)

Location
Doha, Qatar & Middle East countries