ASI Trainer: Glenn Eldridge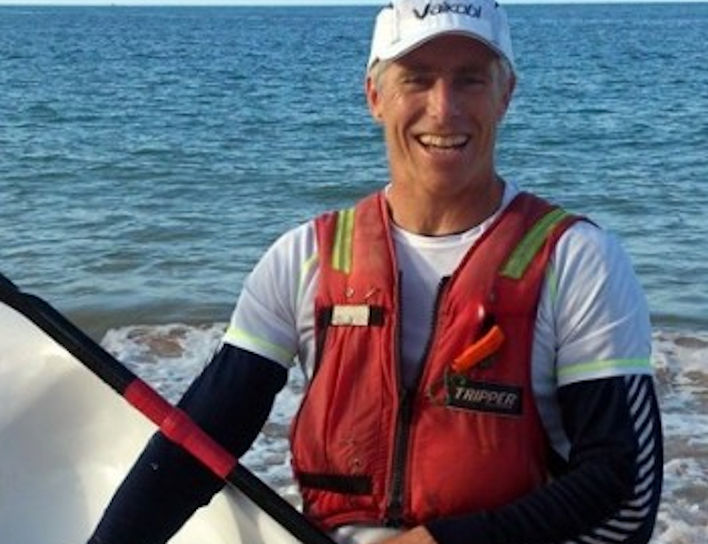 Qualified to Train:
ASI Level 1 SUP Instructor (Enclosed Flat Water)
ASI Level 2 SUP Instructor (Exposed Waters)
ASI Level 3 SUP Instructor (Downwind & Distance Paddling)
ASI Level 3 SUP Instructor (Beginner Surf)
ASI SUP Water Safety Rescue Award (Flat Water)
ASI SUP Water Safety Rescue Award (Surf)
ASI SUP Wise for Instructors
Ready to Race
About Glenn
Glenn Eldridge, has achieved national, European and world recognition in surf life saving ironman and sprint kayak competitions.
International competitions include a 'Surf Ironman' in Surf Life Saving, European medalists along with training and racing as part of the British Olympic Racing Squad in sprint kayak (k4 1000m). And now a world medalist in long distance ocean ski.
Glenn is the owner of Ocean Sports (Cornwall, England), providing SUP, Sailing, Hawaiian Canoe and Kayak lessons, activities and tours.
He organises SUP competitions including the annual Carbis Bay Celtic Cup and set up the St Ives Outrigger and Paddle sport club.
He is also a college lecturer in sports science. And an elite paddle sports competition personal coach.
Glenn has spent a life time spent immersed in the ocean, competing, working as a professional beach lifeguard in the UK and Australia, surfing and paddling whichever craft he could get his hands on.

Stand Up Paddle Experience
Paddling since 2007
Regularly competes in stand up paddle racing competitions.
Set up and is actively involved in the local stand up paddle club.
Event director and organiser of SUP race events, including the annual Carbis Bay Celtic Cup, Cornwall UK.

Coaching and Training Experience
Trains ASI Stand Up Paddle instructors in the UK & Europe.
Personal coach for SUP paddling skills, elite SUP downwind and competition racing
Personal coach for surf skis, hawaiian canoe skills and competition racing
SUP Instructor: flat water, exposed waters, beginner to elite SUP surfing, downwinding, advanced racing.
Programme Manager Sports Science Performance and Coaching, Cornwall College, Camborne
Owner and founder of Ocean Sports Centre, delivering unique paddle sport activities in SUP, Hawaiian Canoe, Ocean Ski and community based clubs.
Head Coach South West Talent Identification Search 2012/16 Olympic Games programme.
Consultant to the British Surfing Team (2005) - Provision of Sport Psychology and Strength and Conditioning programmes
Consultant Head Coach to British Army Canoe Union

Qualifications
ASI Level 3 SUP Trainer (Flat Water)
ASI Level 1 SUP Trainer (Surf)
ASI SUP Rescue Trainer (Flat Water)
ASI SUP Rescue Trainer (Surf)
ASI Level 3 Stand Up Paddle board Instructor (Downwind)
ASI Level 3 Stand Up Paddle board Instructor (Beginner Surf)
ASI Level 2 Stand Up Paddle board Instructor (Exposed Waters)
ASI Level 1 Stand Up Paddle board Instructor (Enclosed Flat Water)
ASI Stand Up Paddle board Instructor Water Safety Rescue Award
MSc – Master of Sport Science 2:1 (Hons)
BSc – Bachelor of Sport Science 2.1 (Hons)
Post Compulsory Education and Training (PCET) PGCE Teacher qualification
Level Three Competition Kayak
Level Two Surf Coach
Level One Assistant Swimming Coach
SLSGB Surf Lifeguard
Dartfish video sports analysis
UK DBS Enhance Working with Children Check

Other
Professional Beach Lifeguard (UK) 1987-2001

Competitive Achievements
2016 British Stand Up Paddle board team member
2012 International Long distance (28km) World Championships 3rd 40+
2010 British Surf Ski Series Champion
2009 6th Mayors Cup, New York 3hr, 46min (48km)
2009 6th Nelo Summer Challenge (was leading until last 100m)!
2009 8th Eurochallenge, Alicante Spain (27km)
2009 Set new crossing record from Lands End, Cornwall England to St'Mary's, Scilly Isle, in Fenn double with Guy Blackford 3hr, 41min (50km)
2004 World Championships Surf Life Saving British Team Captain Veragio Italy. 5th ocean kayak
2003 Olympic qualification for Athens 2002, World Championships G.B. Sprint Kayak K4, 500m and 200m, Atlanta, Georgia
2003 World Cup G.B. Sprint Kayak K4, 1000m and 500m, Zagreb, Croatia
2002 World Cup G.B. Sprint Kayak K4, 1000m Mechelen, Belgium
2002 World Championships Surf Life Saving Daytona Beach, Florida, U.S.A. (Cpt)
2002 World Championships G.B. Sprint Kayak K4, 1000m, Seville, Spain
2002 World Champion Ocean Kayak (Masters)
2002 European Championships G.B. Sprint Kayak K4, 1000m Szeged, Hungary
2002 World Cup G.B. Sprint Kayak K4, 1000m Duisberge, Germany 2001 World Cup G.B. Sprint Kayak K4, 1000m, Zagreb, Croatia 2001 World Cup G.B. Sprint Kayak K4, 1000m Duisberge, Germany
2001 Good Will Games, Kurruwa Beach, Surfers Paradise, Queensland, Australia
2000 World Championships Surf Life Saving British Team Captain, Manly Beach, Sydney, Australia
1999 European Championships Surf Life Saving Bournemouth, England. Silver medallist sprint Ocean Kayak
1998 World Championships Surf Life Saving Miruwi Beach, New Zealand
1996 World Championships Surf Life Saving Durban, South Africa
1994 World Championships Surf Life Saving Fistral Beach, England-Fifth place Surf Ironman

Location
Carbis Bay, Cornwall, England, UK