ASI Trainer: Cristiana Chessa
Qualified to Train: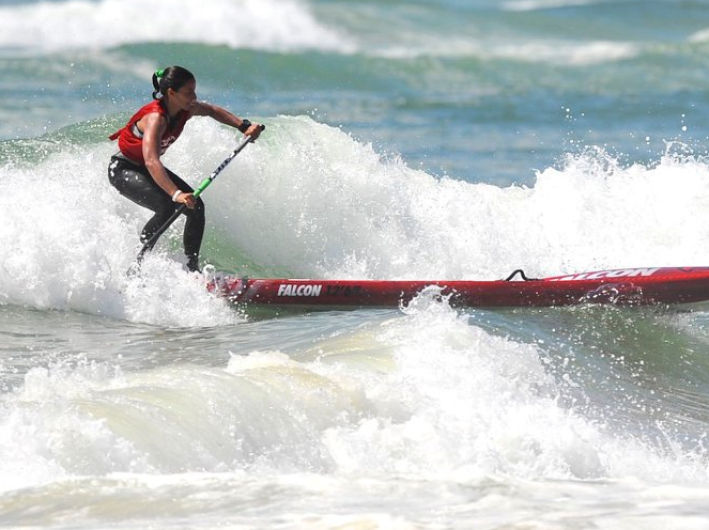 ASI Level 1 SUP Instructor (Enclosed Flat Water)
ASI Level 2 SUP Instructor (Exposed Waters)
ASI SUP Water Safety Rescue Award
SUP Wise for Instructors
About Cristiana
Cristiana is a highly experienced waterwoman with 12 years of teaching experience combining a wide variety of water, land and adventure ropes activities.
Thanks to her parents she was introduced to keelboat sailing at the early age of 4, sailing every year a different part of the Mediterranean Sea. She started sailing Optimist as a kid on the volcanic lake of Bracciano, northwest of Rome, Italy, to escape the city life during weekends and summer holidays with her family. She always been interested in sport, particularly water sports. She took windsurfing and Hobie Cat 16 and competed at National and International level regattas until she left Italy to move to Australia in 2000, drawn by the beauty of the land, ocean and consistent sea breeze of Perth.
When she saw kiteboarding she knew she had to give it a go. In 2009 she become an IKO kiteboarding instructor to inspire and guide other people, especially women to get into this extreme water sport. In 2010 Cristiana was invited to be part of the inaugural Red Bull Lighthouse 2 Leighton kite race, which is one of the premiere ocean crossing events from Rottnest Island to the mainland.
In 2010, during the yearly winter kiteboarding road trip to the Ningaloo Reef region, on a windless day, Cristiana was introduced by a good friend to stand up paddling. She enjoyed the all over workout and got hooked straight away. Soon after she started more serious training to compete at various type of SUP events from sprints to technical racing and marathons, flat water to ocean downwinding and qualified to represent WA at the Australian National Titles every year since 2014 and she is proud of her many podium placing results.
She has been enjoying The King of the Cut since 2013 and The Doctor Race, the biggest ocean crossing downwind paddling event in the Southern Hemisphere, 27km from Rottnest Island to Sorrento Beach, since 2015.
She regularly competes at many SUP events and prepares new paddlers to become race ready.
She became an ASI SUP Instructor in 2012 and logged thousands of teaching hours sharing her knowledge and experience with people from all ages and walks of life.
Her favourite place to be is a soul charging, bumpy, windy ocean.

Stand Up Paddle Experience
Stand up paddling since 2010
Committee member in the state SUP Association
SUP Race competitor at state and national level since 2012 - flat water, marathon, technical racing and distance downwinding.
Australian SUP Titles 2014, 2015, 2016, 2018 – Marathon Champion O40 in 2015 and 2018
AORS Australian Ocean Racing Series - SUP Female winner in 2015/2016, 2016/2017 and 2018/2019
The Doctor 2015, 2016, 2017, 2018 and going - SUP Female winner in 2017 and 2018
King of the Cut 2013, 2014, 2015, 2016, 2017, 2018 and going

Coaching and Training Experience
Instructing in a wide variety of water, land and adventure ropes activities since 2008
Stand Up Paddle Instructor since 2012
SUP School owner and head coach since 2016
Kiteboarding Instructor since 2009
Trainer for ASI SUP instructors
Trainer for SLSA Surf Rescue
Trainer for RLSS START (School Teacher Aquatic Rescue Training and Resuscitation)

Qualifications
ASI SUP Instructor Trainer
ASI SUP Rescue Trainer (Flat Water and Surf)
ASI Level 1 Stand Up Paddle Instructor (Enclosed Flat Water)
ASI Level 2 Stand Up Paddle Instructor (Exposed Waters)
ASI Level 3 Stand Up Paddle Instructor (Distance and Downwinding)
ASI SUP Water Safety Rescue Award
SLSA Bronze Medallion since 2008
Emergency First Response First Aid
Provide First Aid Certificate aka Senior First Aid
Advance Resuscitation Techniques Certificate
Spinal and Pain Management Certificate
PADI Diver
RYA Safety and Sea Survival
RYA Competent Crew Certificate
WA Recreational Skipper Ticket
AUSTSWIM Teacher of Swimming and Water Safety Level 2
IKO Kiteboarding Instructor Level 2
Single Pitch Abseil Natural and Artificial Guide
Climbing Artificial Guide
High Ropes Conductor
Vertical Rescue
Blackroll Functional Fascia Trainer
WA Working with Children Check
Certificate IV in Outdoor Recreation
Certificate IV Training and Assessment

Location
Perth, Western Australia
Ph: +61 415 209 500
Email: standuppaddleperth@gmail.com
ASI Email: training@academyofsurfing.com