Discovering, getting into and falling in love with stand up paddleboarding is easy; it's super accessible, relatively quick to learn and loads of fun, but one of the most common questions we hear from beginners and advanced paddlers alike is "What do I wear while I'm stand up paddling?".
The good news is that you don't have to invest in fancy, expensive or specialist technical clothing to get out on the water (although there are certainly increasing, somewhat inevitable, options in this regard), in fact you almost certainly already own what you need to get paddling of you have any gym, yoga or general outdoor active wear in your wardrobe!
In this post we'll take a look at the best way to kit yourself out for a paddle season by season and in different environments. Of course, where you are in the world will largely inform your SUP clothing decisions so the best way to approach this article is to mix and match your decisions depending on your specific location and climate.
There are three main considerations when it comes to getting yourself appropriately dressed for a paddle; what the weather is doing, how cold the water is and how much time you are expecting to spend in the water.

What to wear for paddleboarding in the Spring and Summer
Let's assume you are flatwater paddling in clement conditions on a warm sunny day as this might account for the vast majority of Summer paddles. Whether you are enjoying those typical 20 degree European or American temperatures or you're basking in that slightly warmer Southern Hemisphere sunshine all you really need here is that eternal Summer uniform; board shorts and a t-shirt.
Think yoga or gym session clothes; light and quick drying in case you take a dip, but will keep you sensibly covered while you paddle. Paddling can be quite a workout so you can always factor a little paddle generated body-heat into the equation.
It's a good idea to consider the strength of the sun in warmer conditions in terms of sunburn or sun stroke, especially out on the ocean on a clear day, the sun's rays can get pretty intense with the reflective nature of water and especially if you're out of the water much of the time. Consider a cap to protect your head, don't forget the sunscreen and explore UV protected rash vests or t-shirts in mega hot climents.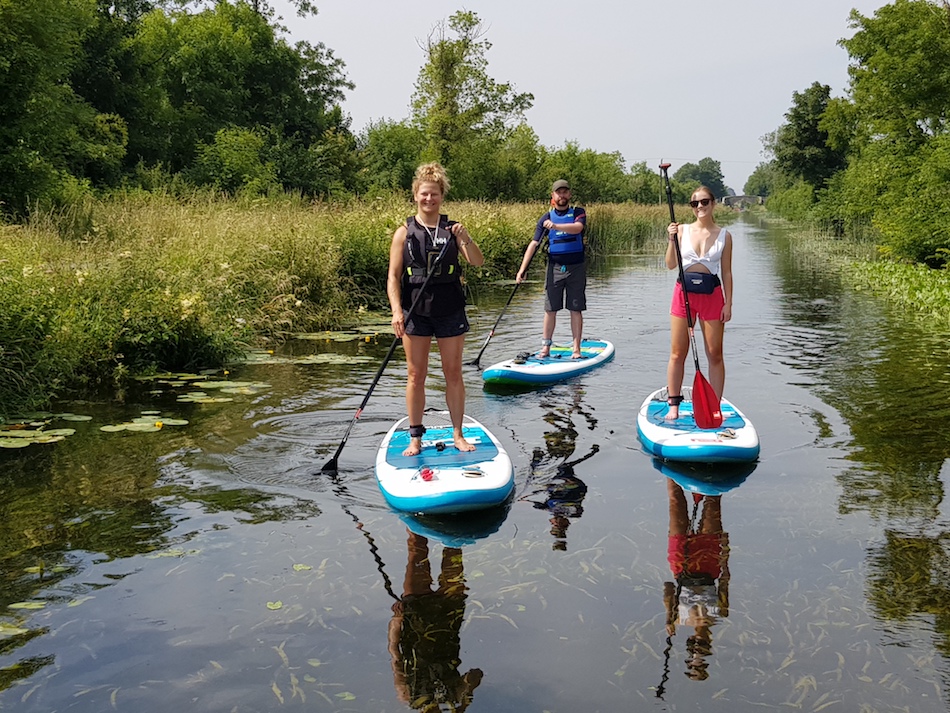 Even the warmest of days can throw up a cool breeze so think about an extra layer that you can stuff in your dry-bag or tie around your waist should you need an extra layer of wind protection as the day cools off.
This will suit most people during SUP's most popular paddle seasons but if you're out on a lake or off the coast you will always be more exposed to the wind compared to enclosed waters such as a river, so maybe think about an extra layer or two in those environments.

What to wear for paddleboarding in the Autumn and Winter
As the temperatures start to cool off, it doesn't mean your enthusiasm for getting on the water will wane and one of the best aspects of paddleboarding is that you can do it all year round with a little forward planning.
During the cooler Autumn months and as Winter starts to take hold you will need to add to your layers. Simple thin layers (as opposed to a heavy jacket for example) are always best as you can raise and lower your protection in increments as the weather and conditions fluctuate.
A light, waterproof, hooded jacket can be a great top layer, keeping you dry and also offering wind protection.
Waterproof trousers or over-trousers can work well on cooler or wetter days and as things get much cooler you can experiment with thermal base layers, top and bottom, to keep you warm.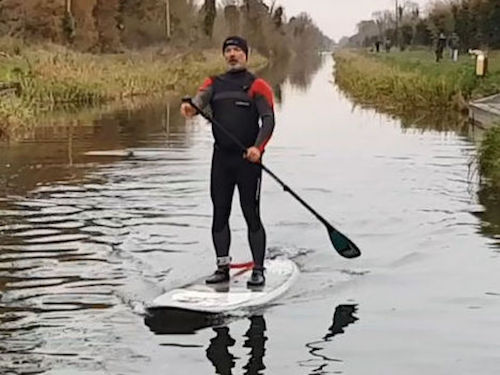 Wearing the right clothes for your environment
These suggestions are going to work for most situations in most seasons but things change rapidly in certain circumstances. For example, if you're out SUP surfing, spending more time in the water, then a full steamer wetsuit is going to be the way forwards, maybe even with a hood and neoprene boots in particularly cold waters.
If you are out touring or exploring on a cold day on frisky water and want to cover all your bases you could opt for a full dry-suit. This (often quite expensive) solution goes over everything you're wearing and seals you in, keeping everything dry should you take a tumble into the water. You might lose a bit in flexibility but you don't have to worry quite so much about staying warm and dry which is very important if you expect to be out there for any great length of time.

The right time for a wetsuit
The flexibility of movement versus keeping warm and dry trade off is a bit of a balancing act, no more so than in the world of wetsuits. If you're out practicing your pivot turns, surfing or heading across a choppy lake on a windy day and falling in seems inevitable then a wetsuit might be a sensible option.
There are plenty of traditional full length and shorty options out there and everything in between to suit paddleboarders.
You can even mix and match different thicknesses of neoprene leggings and tops (from 1mm right up to 5mm plus) and find the right combination that works for you.
A popular option is a long-john (armless) style wetsuit that keeps your all important shoulders free of restriction and can be combined with a wetsuit jacket or perhaps a long sleeved layer or two.

What to wear on your feet for paddleboarding
Barefoot is always best because that tactile connection with the board supports your balance, position, posture and movement. But there are plenty of options out there these days including barefoot style water shoes, waterproof socks and more traditional neoprene booties depending on the weather.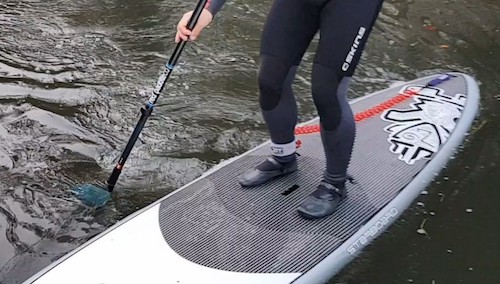 Experimenting and personalising your experience
Everyone is different and has a different threshold when it comes to being 'too hot' or 'too cold' which makes experimentation critical.
We certainly don't advocate splashing too much cash on your SUP clothing as simple is invariably best in most situations but it's important to plan ahead, know what the weather and water temperature conditions are likely to be for the whole duration of your paddle session and plan accordingly.

Where to buy your paddleboarding clothing
With SUP gear being so specific it seems to sit somewhere south of surf gear and north of hiking gear with a smattering of yoga apparel thrown in. The truth is that where you are in the world, what the weather is doing, what sort of water you are paddling on and how long you are going to paddle for will all inform your clothing choices. It's all about figuring out what works for you, where you are.
Surf and watersports outlets, as well as general outdoor or sports clothing stores should, between them, stock most of what you'll need. However there are plenty of niche, specialised retailers starting to show up that are designing gear specifically for SUP.
Another useful tip is to get involved in social media groups and forums and ask other paddlers what they find is working for them; there's something to be said for the wisdom of the masses!
Keep it simple, plan ahead and go for light layers over bulkier options and you'll almost always be ready for whatever the weather throws at you.
---
About ASI
ASI is a professional membership and training organisation and international governing body for instructors, coaches and schools in the outdoor recreation industry for surfing, stand up paddle and bodyboarding.
#asi_academy #ASIInstructor #asischool
#surfing #surfinginstructor #surfcoach#surfcoaching #surfschool #surfwise
#sup #standuppaddle
#supinstructor #supcoach #standuppaddleinstructor #supschool #supwise
#supyoga #standuppaddleyoga
#supfitness #standuppaddlefitness #supdownwind #supsurfing