The sight of someone paddle boarding with their dog has rightly become an increasingly common one. The chance to share further quality time with your best friend partaking in the wonderful sport of SUP should always be grasped.
ASI grabbed a quick chat with Franca Oud-van Neijenhof from SUP Schermer based in Zuidschermer, North Holland. SUP Schermer have long-promoted how fantastic an experience paddling with your pooch can be, Franca explains a little about why that is the case.
ASI: Hi Franca, what is it about paddling with your dog that makes the experience such a special one?
Franca: The fact that you and your dog are together at that moment, it's just the two of you and that makes it very special.
Most dogs love it on a SUP board and they enjoy the water and the environment. My dog even falls asleep because the board is a bit wobbly and she becomes totally relaxed. Some dogs are scared on the land before the paddle, but during the SUP session they relax totally. One of my dogs now really has fun trying to catch the waves or drops of the paddle.
ASI: It does sound like a great way to spend time with your dog! Have you seen a rise in the popularity of people paddling with their dogs?
Franca: Due to COVID, there are a lot more dog owners now. Also having been indoors for so long, people now want to get themselves outside in a way that's safer. Most of the people have done a lot of different things with their dog and are always looking for something new. Once they try SUP with their dog, people like it so much they will come back several times.
We help them a lot and take beautiful pictures along the way. It is entirely common that we will take more than 200 photos during a workshop.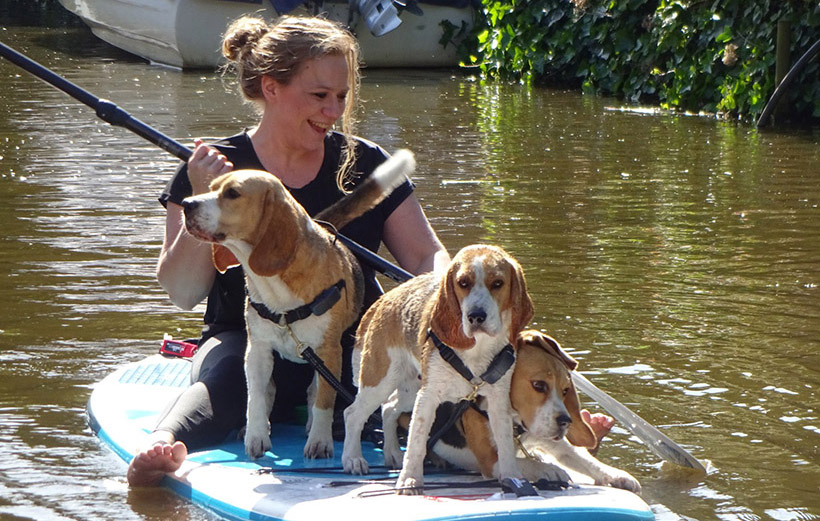 ASI: Despite it's obvious benefits, what should people consider before heading out for a paddle with their own dog?
Franca: People really need to consider if the dog can stay on the board. And it is nice if a dog listens. In an exceptional case, where a dog is too scared, then we have to quit. It must not become a traumatic experience for the dog.
Don't push too hard and have patience. That's it really, patience, enjoy the experience and relax in the beautiful moment with your dog.
We'd like to offer a huge ASI thank you to Franca, and hope that perhaps her words and passion about SUP sessions with a dog inspire others to seek out similar shared adventures. You can find out more about Franca and SUP Schermer right here.