With the vast amount of chemicals and plastic used in the world, we at ASI love to see an essential tool for surfing 'the fin' made from waste material and put to good use.
Shaka Surf wants to "be the change, rather than passively watch our oceans and beaches get progressively worse with rubbish. As surfers, we have a responsibility to be better custodians of the ocean, after all it gives us so much enjoyment."
They came up with the idea of creating eco surf fins from recycled waste materials and plastics after coming in from a surf and seeing so much waste on the beach and made a pledge to put this rubbish to good use. Their 9" eco single fin uses approximately 70 plastic caps and the medium G5 fins use approximately 50 plastic caps in their fabrication.
One Fin = 70 Recycled Plastic Bottle Caps
As well as recycling waste materials and plastics to make their recycled fins, they wanted to create a standout design. So they enlisted the help of a street artists to come up with a unique aesthetic. This lead to the development of the Swell lines, paying homage to surfing culture and oceanography.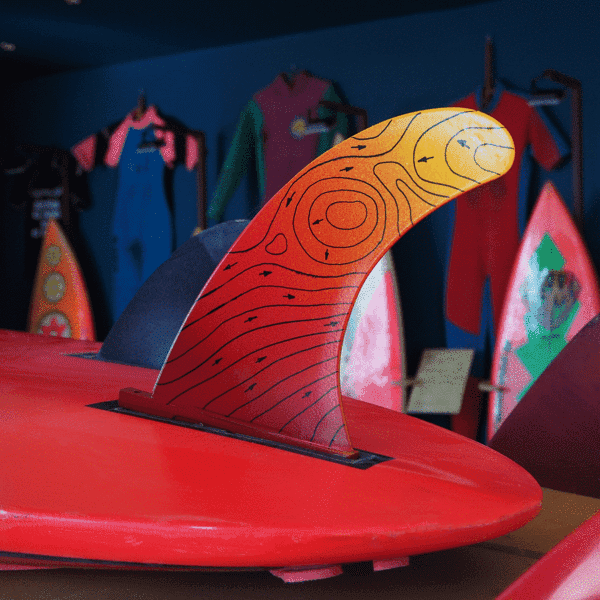 Shaka Surf also participate in wide community led initiatives such as beach clean-ups, training, seminars, and educate people on ocean environmental issues. To share the stoke by producing highly functional products of great quality and design.
For more information: https://shaka-surf.com/
---
About ASI
ASI is a professional membership organisation and international governing body for instructors, coaches and schools in the outdoor recreation industry for surfing, stand up paddle and bodyboarding.
We set the standards for education, accreditation, professional development and ongoing support for our members, offering pathways from entry level to elite level.
International Instructor and Coach Accreditation. You can travel the world with ASI.
ASI Accredited Schools abide by the high international standards for operations, training and safety.
Disclaimer:
ASI makes no representation about the accuracy or suitability of information provided in this article. ASI accepts no liability, for loss or damage in whatever way, incurred by a person as a result of using this product for any reason whatsoever.