ASI is proud to sponsor Miguel Braz, a competition skimboarder, ASI Surfing Instructor and ASI Trainer in Portugal. He is heading to the Skimboard championships on 4-5 September 2021 in Cadiz Spain.
He first tried the sport when, in 2006, he saw another kid on the beach doing it and asked to try it out. Since that day, he never left the skimboard world and didn't rest until he made it bigger. In 2018, he won his first podium at the European Championship and has been working every day to stay on top. Know more about what inspired Miguel...

Who is Miguel Braz and his relationship with ASI:
1. What is your background? When and why did you get involved in the world of Skimboard?
My name is Miguel Braz, I'm 27 years old, I'm Portuguese and born in Lagos. My first experience with a skimming board was in 2006 at Castelejo beach in Vila do Bispo, my father's birthplace.
After borrowing a board from a kid I saw on the beach and then insisting with my dad to buy me one, I started skimming in fine water, called flatland Skimbooard. The problem was that, at that time, it was something I only practiced in the summer, while my father was fishing.
In 2009, my friend Alexandre Ferro, one of my best friends, showed me what Skimming in waves was. That was when my parents bought me a carbon fiber board to skim the waves. Since then, I started to take the sport more seriously and bought a suit so that I could also practice it during the winter.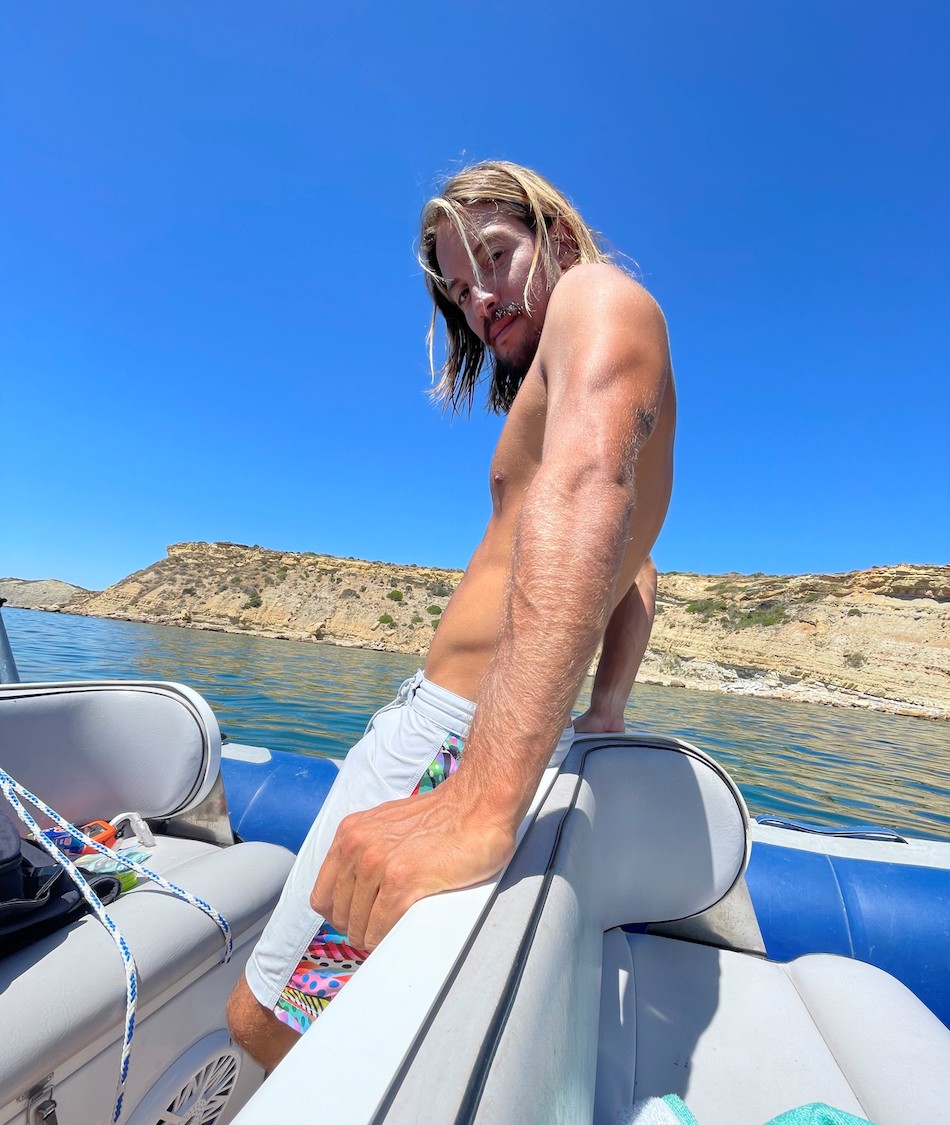 2. What are you currently doing?
At the moment I teach Skimboarding during the day and teach the Skimming chapter in ASI's Treinadores de Surfing Grau I courses. At the end of the day, I work at a Mexican restaurant called the Green Room, in Lagos.
3. When did ASI cross your path?
The first time I heard about ASI was in 2016 when I took my first Surfing course, Level 1 and Level 2 Surfing Instructor, delivered by the great Sérgio Brandão. In 2018 I received a call from Sérgio asking if I would like to join the ASI team and participate in the training of surf instructors.
4. Do you like to belong to Team ASI? What do you teach?
Team ASI is undoubtedly one of the best teams I've ever been part of and I see a future with the whole team. The team is friendly, always ready to help with anything you need. I've been learning a lot with ASI and I'm sure I will learn a lot more in the coming years.
5. What are your plans and prospects for the future? Continuing in the Industry?
For the future, my main objective is to be able to deliver even more training with ASI and to be able to evolve with the team. I would like the Skimming chapter to be a little more in-depth and maybe, in the future, I could have more hours of course, so that I can explain and teach better to future surf instructors, so that they can also do a good job.
6. Tip: what are your favorite beaches to catch waves?
My favorite beaches for skimming are Praia de Porto Mós, in Lagos, Praia dos Caneiros, in Ferragudo (it was where I caught my first wave) and Praia da Dona Ana, in Lagos too. For surfing, my favorite is Castelejo beach.
Miguel and his competitive side:
1. When did you start competing? What was the first championship you participated?
The first championship I participated was in Costa da Caparica, in September 2019, and it was where I managed to pass my first HEAT. For me, that alone was a dream come true. Since that moment, I got the "thrill bug" for competing and I never stopped it.
2. When was your first podium? How did you feel?
My first podium was in 2018, when I won the European championship. This was a goal I had in my life and I managed to achieve it, which gave me even more strength to continue competing. The following year I was National Champion. I felt like I had done one of the most important things in my life and I felt super happy.
3. What about the next Championship, where will it be held?
The next championship will be held in Cádiz, Spain and it's a European Championship. For me it's important to rank well. The championship is called Internacional de Trafalgar de Skimboard.
4. What are your perspectives for the Championship? What goals have you set for your performance?
My prospects for the championship are to reach first place, like all the others, or reach at least the top 5 in Europe. For this I set the goals of training every day after work, waking up in the morning, training, eating well and resting even better.
5. Will you participate in another championship this year?
Right now, I'm waiting for the date for the national championship, which should take place either in October or November. If this championship happens and it is in Portugal, I will definitely participate.

Miguel Braz
Facebook
Instagram

---
About ASI
ASI is a professional membership and training organisation and international governing body for instructors, coaches and schools in the outdoor recreation industry for surfing, stand up paddle and bodyboarding.
ASI Accredited Schools abide by the high international standards for operations, training and safety.
#ProudToBeASI #ASI_academy #ASIinstructor #ASIschool
#surfing #surfinginstructor #surfcoach #surfcoaching #surfschool #surfwise