Meet sixteen-year-old, Caoimhe Galligan Byrne, a young paddleboarder, surfer and athlete with a serious appetite for competition and the talent to back it up. Caoimhe is already making waves in the world of paddleboarding as a competitor with the desire and drive to chase her goals. Yet, despite her undeniable ability on a board, she remains humble and grounded in the pursuit of her dreams.
ASI caught up with Caoimhe to discuss the journey so far, that competitive spirit and her future aspirations.
ASI: Hi Caoimhe, let's start at the beginning, at what age did you find you had an affinity for paddleboarding? And, was it something that you immediately fell in love with?
Caoimhe: I started paddleboarding when I was around three or four just sitting on the front of my dad's board, but I only started to really enjoy it when I was about ten and I learned how to paddle independently.
ASI: Do you have a natural competitive nature? And what motivates you in competition, is it chasing the win, personal goals, or something totally different?
Caoimhe: Absolutely, I'm always chasing the win. I like to set goals for myself, for example, whoever has been beating me in races, I constantly say to myself during training and racing "I'm working towards becoming better than that person who's better than me, next time I'm going to beat them".
Since I was much younger, I've been involved in many sports. I played basketball at a high level and won national titles and I was involved in Shotokan karate for a number of years and became a black belt at only 12 years old. So, looking forward, I don't see anything changing as long as I'm fit enough and healthy enough to be competitive, I'll keep chasing that Olympic dream.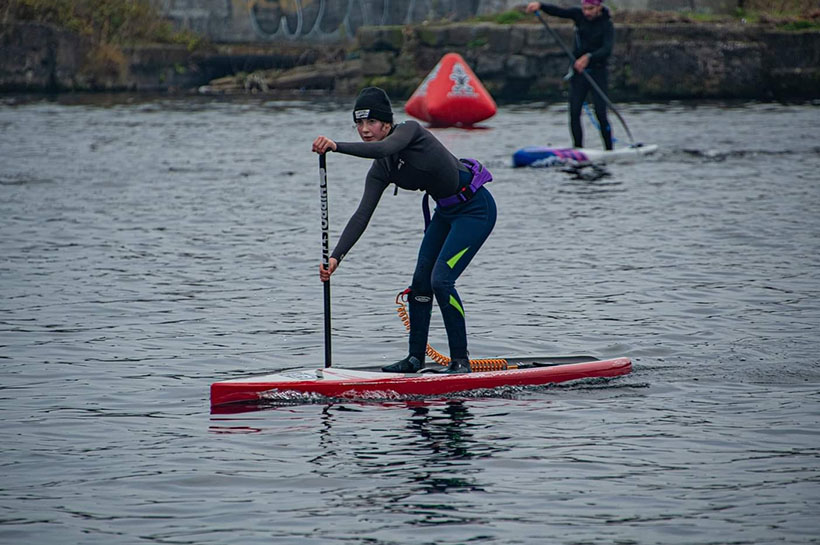 ASI: I feel confident that your Olympic dream will one day be an Olympic reality! Besides the Olympics, have you already set yourself paddling goals going forward, either as a competitor or as a future career?
Caoimhe: Yes, I'd like to win some national competitions and get myself to a few international ones. I am currently training and preparing for the ICF World Paddleboarding Championships in Poland this September. My goals for a future career would be to become an ASI trainer and follow in the footsteps of my dad.
ASI: Are there any personal highlights so far on your journey?
Caoimhe: I guess becoming a certified ASI instructor is right up there. Competition wise, at only 16 years of age, mixing it up with the senior ladies is pretty special, and I recently featured on national television in a documentary where I was surfing a ferry wave in Dublin.
ASI: Who or what inspires you to get out on the water?
Caoimhe: I suppose I'll be in trouble if I don't say my dad. I'm very fortunate to have him provide me with the opportunities and the equipment to do what it is I love. All the female surf and skate athletes both around the world and in Ireland inspire me and give me the drive to someday be as good as them.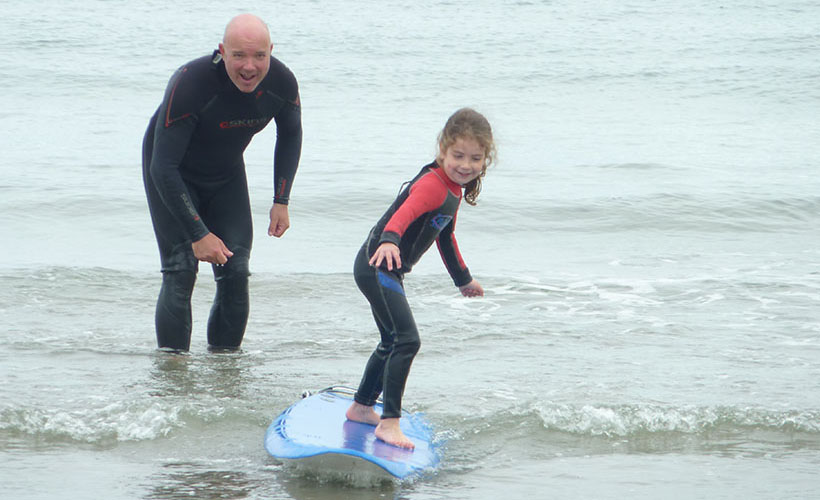 ASI: Great answer! As a young athlete, what sort of prep do you do pre-race? Is there a training regime? Do you have to get into the right place mentally?
Caoimhe: Besides getting a good night's sleep the night before competition and having a good healthy breakfast, I don't do anything special. Pre-competition, I enjoy listening to good tunes which help keep me calm and relaxed. Competition for me is about enjoying myself and I generally take it all in my stride. I wish I could say the same about school exams!
ASI: What do you love about being on the water?
Caoimhe: Being on the water is my happy place. I find it both relaxing and exhilarating. When I'm teaching, I love sharing these experiences with students, especially the children in summer camps. My only regret is that I don't live closer to the water.
ASI: Are there any upcoming events you are currently preparing for?
Caoimhe: I am currently training and racing in the Irish Winter SUP Race Series and my big goal for this season is the World Championships in Poland.
ASI: Do you have a dream event you hope to one day compete in?
Caoimhe: While my focus currently is around SUP racing, I'm a very passionate SUP surfer and would hope in the future to compete on that international stage.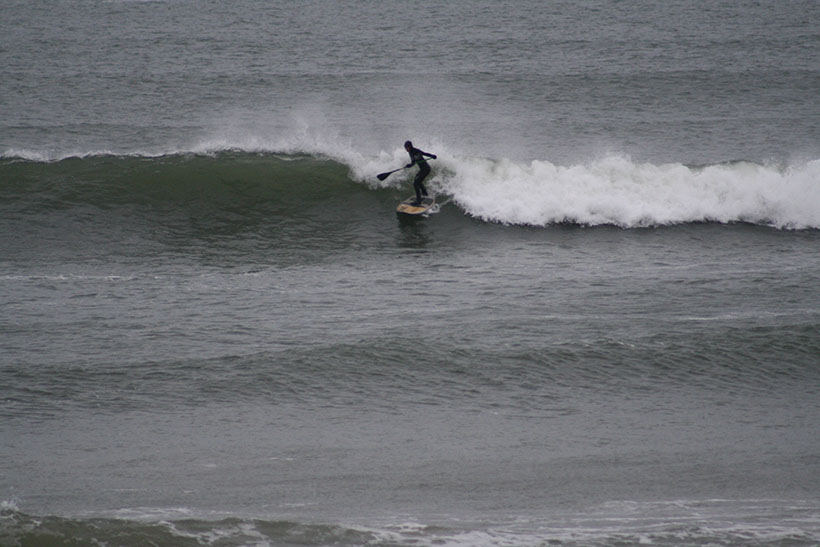 ASI: What advice would you give to an aspiring paddler hoping to follow a similar path as yourself?
Caoimhe: My recommendation would be to contact your local SUP club or school and get information on their fun races and events. My experience is that once you start attending these events the other more experienced competitors are more than willing to help and offer both encouragement and advice.
ASI: Away from the ocean and paddling, how do you like to spend your time?
Caoimhe: Most of my free time when not on or around the water is spent skateboarding. I am very fortunate to have lots of good skateparks and underground car parks in Dublin. I love my music and enjoy watching movies.
ASI: I assume you have a quiver of boards between your surfing and racing. What one board is your favourite?
Caoimhe: That's a difficult question. I enjoy being on all my boards, however, my current surf board is on loan from a family friend while he raises his children. This board is a 7'10 Sunova Flow and it has transformed my surfing. Thanks, Dave!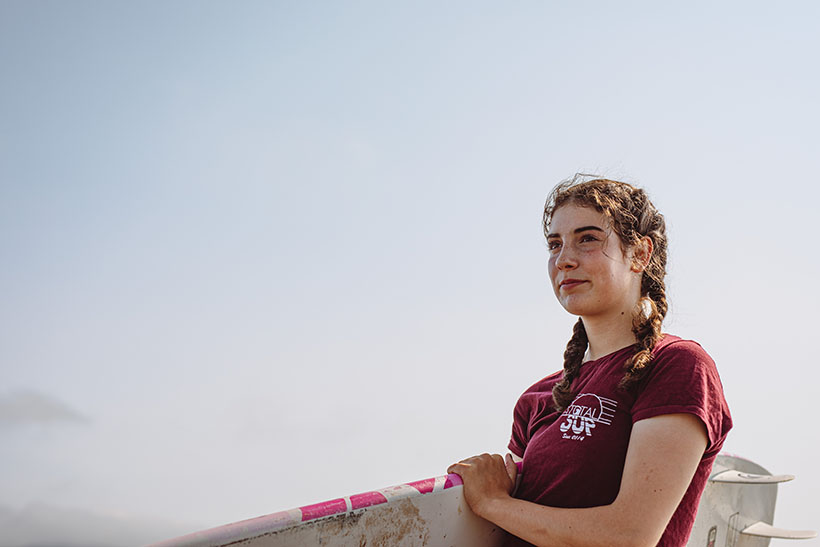 And with that Caoimhe is off to continue a journey that has already turned heads and topped podiums. We at ASI wish her all the very best and cannot wait to see where this adventure takes her.