So, your wetsuit is beyond repair and it's time for a new one. But what do you do with your old one?
Around 380 tonnes of wetsuits end up in landfill each year. A shocking amount, but you can avoid adding to this statistic by giving your wetsuit a second life! There are so many things your old wetsuit can become.
We caught up with Kate, who started Flotsam Flo – a business which uses broken/old wetsuits that were headed to landfill and turns them into new products and accessories - after some serious lifechanging events made her reassess what she wanted to do in her life.
Hi Kate!
How did you get started?
I started Flotsam Flo in November last year, so it's only been going for about 6 months. Running a business is all very new to me. I was previously a secondary school teacher teaching Art and DT. This is all I have known for the last 11 years. Following a brain haemorrhage and a fall from a bike where I broke my patella and my wrist, it made me take a look at my life and what was going on. I wasn't enjoying school as much as I used to. So I made the decision to leave. I think it takes a life changing event to happen before you reconsider what you're doing, well it did for me anyway. My brain haemorrhage was one of the most scariest times I've been through. Especially since learning that 1/3 of people with a subarachnoid brain haemorrhage die, 1/3 have disabilities and 1/3 survive. I am so lucky and grateful. I've been brought up in such a way to "just get on with things" and I'm so grateful for this up bringing. Of course, it was surrounded with love but my Gran (Florence) was a really strong lady. She taught me well and if it wasn't for that I don't think I would have made such a strong recovery. When things happen to you, it's so easy to sit there and say "I can't do that". But my Gran used to say, "there's no such word as can't!" After I quit teaching I had a part time job in a local Bike shop, Giant Helston. They have been amazing! So I kept this going not sure what else I could do. I've always loved sewing, drawing and making things and I saw all of the items going to landfill that take years to decompose and I thought, I'm sure I can do something with that.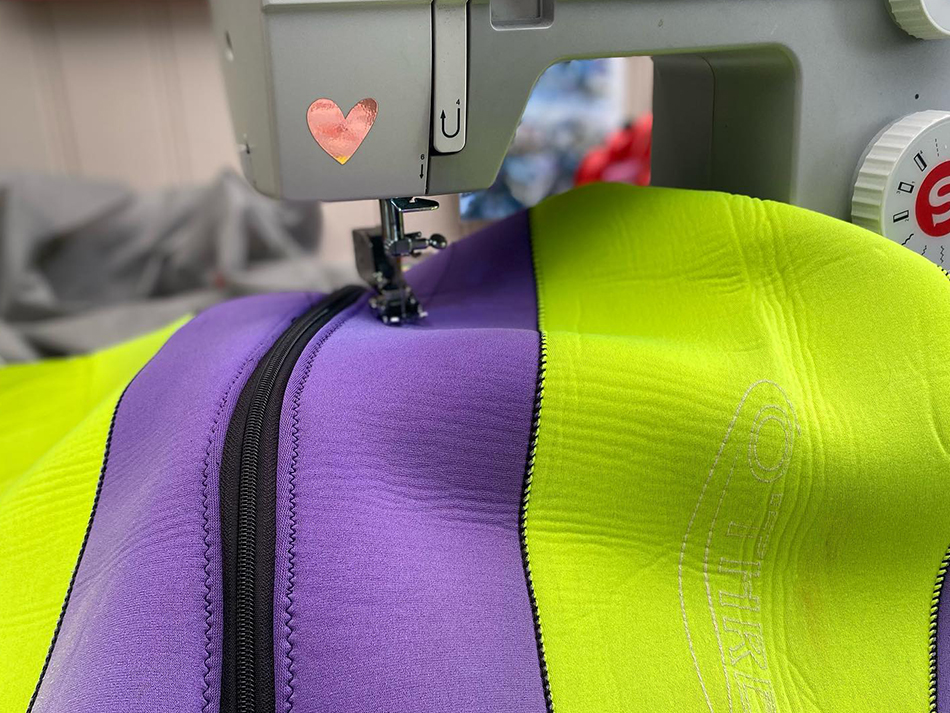 What does Flotsam Flo do?
Flotsam Flo makes products and accessories from items that were going to landfill such as broken wetsuits, paddling pools, inflatables, air beds, innertubes, lifting slings and seatbelts. I try and use whatever I can. The best bit is when people don't realise what the item was before, I like this because it shows I've done a good job and it can't be recognised.
What's your favourite item to make from 'unusable' wetsuits?
Most definitely the wetsuit holdall. I'd made a couple of holdalls from paddling pools and I was asked if I could make a wetsuit holdall for Tris at Krog Den (recycle surf shop in Hayle Cornwall UK), who has been amazing at supporting me on my Flotsam Flo journey. I wasn't sure if it would work or if the material would be too thin but it was perfect! I cut out the knee pad and used it as a pocket. It looked great! Some of the colours and textures on the wetsuits are so good, especially the inside of them. I really like the wetsuit bumbags as well, they turned out so well and are perfect for loads of items.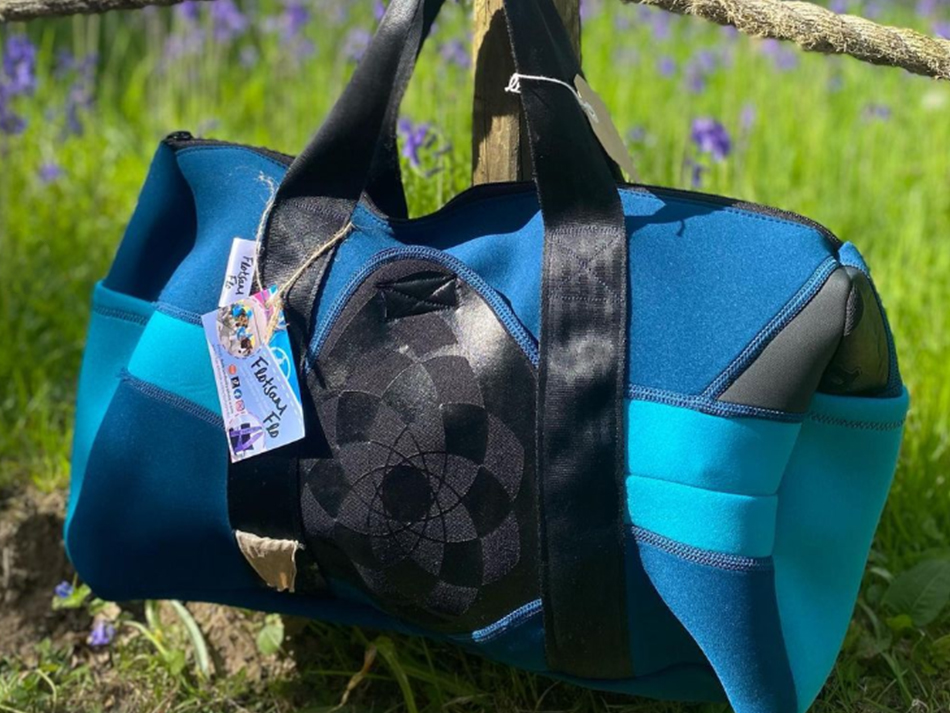 What are you working on at the moment?
At the moment I'm developing the new Flotsam Flo back pack. I make fold down swim bags from paddling pools and off cuts of canopies and someone asked me if I could make a backpack. I'd never made one before, but I had an idea in my head and I made my first one yesterday! I can't wait to try and make more. Being by the sea and open landscape is such an inspiring location to be at. There are forever spots to inspire you or different materials people suggest. I only started using wetsuits by accident. I was at a craft fair at Christmas and a lady came up to me and asked if I could use wetsuits as she had a few broken ones. I wasn't sure if I could but she said she'd bring them over for me. I started using them and never looked back! They're so brilliant to make items from and readily available. Cornwall Watersports in Pentewan have saved me wetsuits as well as North Coast Wetsuits near Port Isaac. They've even sent me down dry bags to use that were broken as well.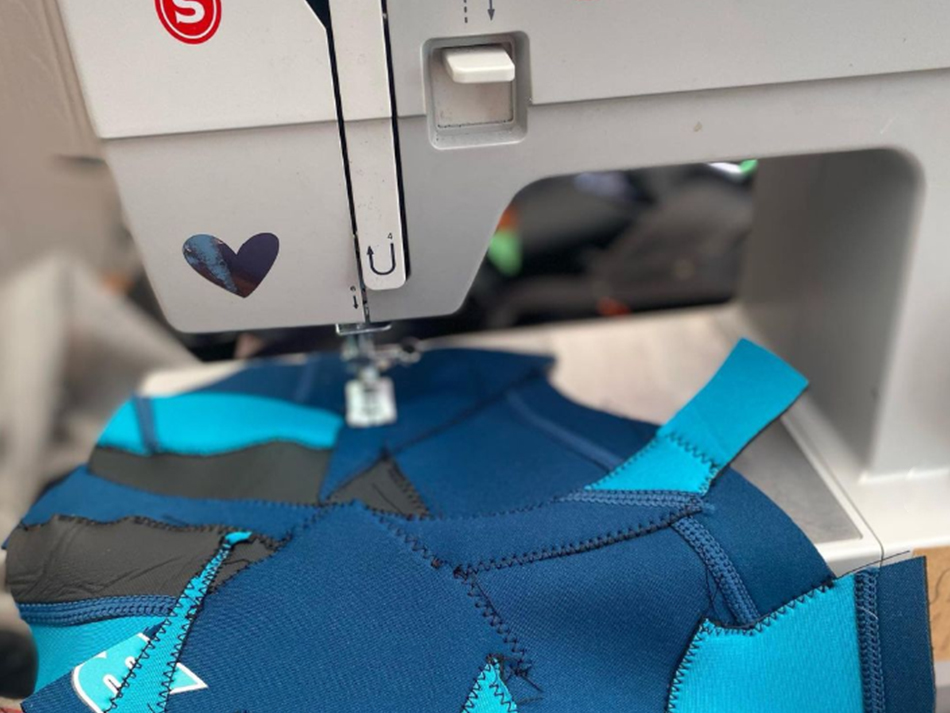 What motivates you to use recycled materials?
It's just the perfect way to use items. These materials were going to landfill. This would be ok if they could easily be broken down or biodegrade but they don't. I think wetsuits take up to about 100 years to decompose and it's just the thought of all these items going to landfill sitting there. I think if I can reuse just a few items then at least it's less going to landfill.
Do you have any upcoming events where people can come and see Flotsam Flo?
Yes! Flotsam Flo is at a couple of events over the summer.
- Saturday 4th June Community day at Heartlands
- Sunday 12th June Caerhays Castle Summer Fete
- Saturday 16th July - Helifest I'm excited for this one. It's all in Aid of the Air ambulance and only
10 traders were chosen to attend - Flotsam Flo was one of them!
- Sunday 4th September - Godolphin fete
Anything you'd like to add?
I always say, we can't do it all but we can do our bit.

Massive thanks to Kate for giving us some insight into recycling wetsuits and if you can, definitely pop by to one or some of the events Flotsam Flo will be at this summer!
Check out Flotsam Flo on facebook or Instagram