AUSTRALIA. NSW. Introducing ASI SUP Trainer and Instructor, Rebecca Dunning based in Shellharbour, NSW. Rebecca found her love for the ocean at the age of 13 as a bodyboarder, a lover of many sports she tried SUP and never looked back.
She currently runs ASI accredited school SUP Shellharbour and is also an ASI Trainer. Rebecca runs workshops throughout the year teaching and helping people to become ASI SUP or SUP Fitness Instructors.
1. What is your background?
I found the love of the ocean as a bodyboarder when I was 13 (30 years ago now). I competed around Australia winning a couple of National Titles in the late 90's. I was also lucky enough to represent Australia at the World Surfing Games in 1998 in California where I placed 9th. I have been told I have sports ADHD! – moving from one sport to another; including surf boat racing, downhill mountain biking, basketball, rugby league, bodybuilding, & SUP being the latest.
2. What got you involved in the sport?
My husband picked up a SUP & I told him to get back on his short board! But after trying SUP, I never looked back. I then worked as a SUP instructor, starting working for ASI as a trainer/assessor, then started our SUP business, and have just started competing in SUP surf competitions.
3. Why did you become an ASI instructor?
I trained with Zoe from the UK who recommended me to ASI. Nothing beats being able to work in the great outdoors and share your love of SUP with others.
4. What are you doing now?
We are in our 3rd year of business for Stand-Up Paddle Boarding Shellharbour. We have won some great tourism awards & planning our next steps – even considering a SUP festival in the Illawarra incorporating SUP Yoga, a BOP event, SUP surfing & a Paddle in Pink. My husband & I are keen to travel to the Scotts Head SUP event again this year, the State Titles & hopefully the National Titles. Lots of working & travelling with ASI. When at home, keeping the family happy, healthy & having fun.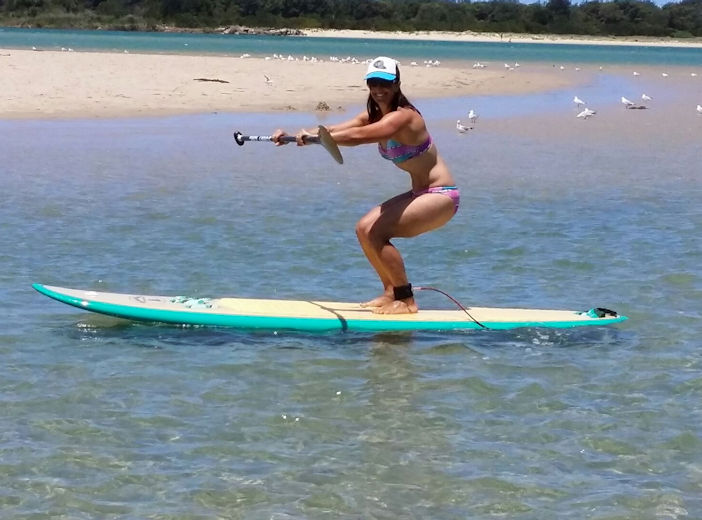 5. What do you like about being an ASI instructor?
Meeting people from all parts of the world is amazing. Networking and catching up with them at future events, watching their careers & businesses grow through social media, and having a good time at the ASI annual retreats. We are hoping to get to the ASI Portugal retreat in future years.
6. Tell us about funny or interesting or nice situation that has happened to you with instructing?
The best moment was the day after I'd taught the SUP Wise and SUP Rescue course in Umina (NSW Central Coast, Australia). We'd said our good byes for the day and we were off to either surf, rest or have dinner. The next day we met up again for the start of Level 1 SUP. One of the guys, walked up to us and said "You're not going to believe what happened to me yesterday!!!" Turns out after our SUP rescue course, he headed out for a surf and had to perform a real rescue with a guy that had come off his board and was getting dragged out to sea in a rip. The victim was a LOT bigger than the rescuer & it was apparently a real hard paddle to get him back in. But sure enough, he did it, and took a LOT of pride telling us all the story of how he rescued someone within hours of completing his course!
*****************************************************
About ASI
ASI is a professional membership organisation and international governing body for instructors, coaches and schools in the outdoor recreation industry for surfing, stand up paddle and bodyboarding.
We set the standards for education, accreditation, professional development and ongoing support for our members, offering pathways from entry level to elite level.
International Instructor and Coach Accreditation. You can travel the world with ASI.
ASI Accredited Schools abide by the high international standards for operations, training and safety.
#proudtobeASI, #academyofsurfinginstructors, #asi_academy #ASInstructor
#surfinginstructor #surfcoach #surfschool #surfwise
#supinstructor #supcoach #standuppaddleinstructor #supschool #supwise
#supyoga #standuppaddleyoga
#supfitness #standuppaddlefitness #supdownwind #supsurfing