A career as an ASI surf instructor can unlock the door to a life drenched in travel, adventure, wonderful people and, of course, great waves.
With schools peppered across the world, it is a fair bet that if the swell is pumping there is probably an ASI school nearby ready to ride it.
One such adventurous soul is Rhys Bates. Australian born and bred he has turned his love of surfing into a fulfilling career as an instructor. And in the true spirit of travel and adventure, now finds himself living the good life with his girlfriend and fellow ASI instructor, Meret, in their new home out in the tropical paradise of the Maldives. Working as a surf coach and photographer at Lohis Surf Resort, he seems to have found the perfect place to put his ASI skills to good use.
ASI caught up with Rhys to find out how he landed his latest gig, and to ask if he might just have the best job in the world.
ASI: Hi Rhys, could you start with a brief overview of your background?
Rhys: I grew up on the east coast of Australia in a place called Bonny Hills. I have a background in Physical Education Teaching and also have 10-years experience as a surf coach and lifeguard having worked in places like the Gold Coast and Port Macquarie.

ASI: How did you get involved in surfing?

Rhys: I grew up surrounded by great beaches and started surfing when I was 12. I have been hooked ever since.

ASI: Why did you become an ASI instructor?

Rhys: I love to work at the beach and enjoy sharing my passion with other people.

ASI: What is the day to day working life of an ASI Instructor in the Maldives?
Rhys: I usually break up the day into 3 parts: Teaching beginner surfers how to surf / Surf Guiding on boat trips for advanced surfers / and taking surf photos of the guests staying at the resort. You can find my photos at surfing_maldives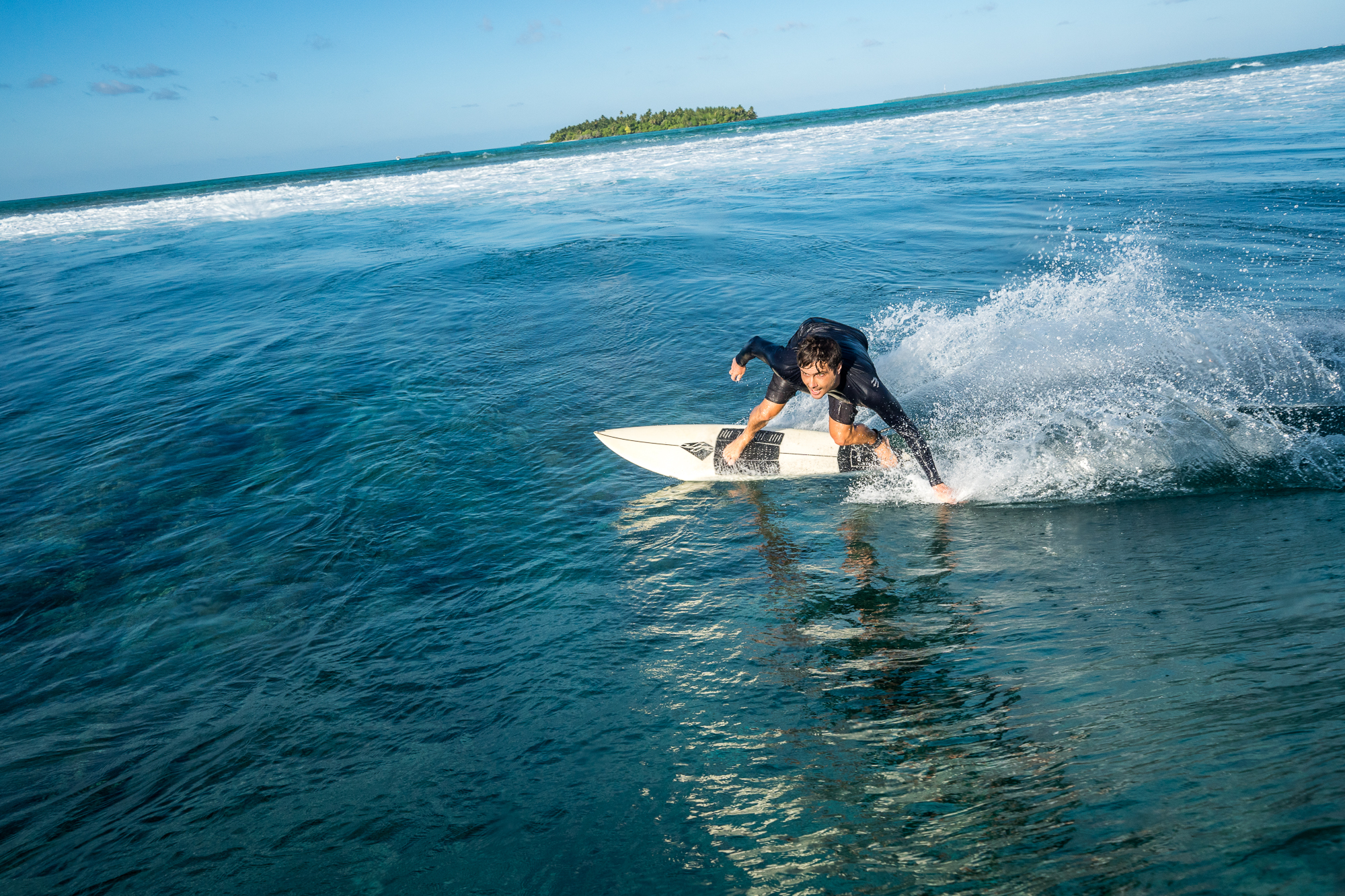 ASI: What do you like about being an ASI instructor?

Rhys: Whether it's the joy of a beginner catching their first wave or the excitement of a surfer when you capture a good photo, I enjoy putting a smile on someone's face. Also being in and around the ocean every day.

Don't underestimate the positive influence you have on the world just by putting a smile on someone's face.

ASI: Do you have any interesting, memorable or positive stories that have happened to you whilst instructing?
Rhys: Getting to meet cool people from all over the world. I have made many life-long friendships through surf instructing.

ASI: How did you land a gig in the Maldives?

Rhys: I just applied online with my CV, followed by a few Skype interviews.

ASI: Is that all it took! Let me just find my CV a moment…is surf instructing in the Maldives seasonal or an all-year role?

Rhys: Yes, it is seasonal. The surf season runs from March to November.

ASI: If you could offer someone considering a career in surf instruction one piece of advice, what would it be?

Rhys: If you're passionate about surfing and love the ocean go for it! There's a lot of opportunities out there.

ASI: Are there times you feel like you have the best job in the world?

Rhys: Yes, especially here in Maldives with all it has to offer.
A huge thank you to Rhys for taking the time to speak to us, and a little reminder that all it took was as ASI qualification, a positive mindset, and the desire to see what the world holds for Rhys to find himself in a surfing paradise.
Dream big with ASI, and those dreams might just come true. If you want to explore those dreams of becoming an ASI surf instructor click here.