UK. Introducing Libby Chivers, an ASI Surf and SUP instructor. Libby comes from outdoor activities background, working in many different activities she eventually made her way into water sports after overcoming her fear of the sea. She is currently instructing in Pembrokeshire teaching her clients surf and SUP, along with helping them overcome fears and achieve goals.
What is your background?
My background, well I fell into the outdoor industry after an injury meaning I couldn't complete my dream job of being a professional dancer. I have worked in the hospitality industry for many a year and did nearly end up being in that world full time but luck was on my side to show me something awesome! I discovered an outdoor centre, got onto a trainee position, worked hard from the age of 17 in the outdoors, running anything and everything from climbing, to archery and many water sports! Progressed to different centres in different parts of the UK and decided Pembrokeshire was to be home! I managed a centre for a while and now I run a surf and SUP company that I set up 6 years ago after finally realising I really did belong in the water most of the time!
What got you involved in the sport?
Working as an outdoor instructor means getting to try many different things.... I knew I loved water but little did I know that surfing and paddle boarding were to become my obsessions! Moving to Pembrokeshire meant dipping my toes into the sea, I soon realised I LOVED the sea! (And pretty much anything to do with it!)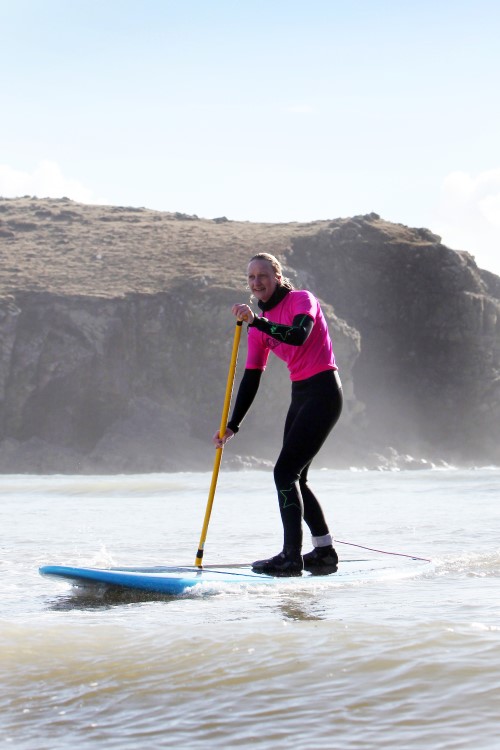 Why did you become an ASI instructor?
I really enjoy teaching people and helping people to do things perhaps they wouldn't do otherwise. I looked at various governing bodies and discovered ASI ticked many of the boxes I was looking for! They also have fab support and so many levels to go to!
What are you doing now?
Right now, eating cake and replying to this and hiding out from some seriously strong winds here in Pembrokeshire ;) Other than that, running my surf/SUP company, getting people out to sea, fighting their fears, getting them stronger, reaching goals and keeping them safe!
What do you like about being an ASI instructor?
I love helping people to get out on the sea. If I am honest, I was scared of the sea 10 years ago, as in "have a little cry when the waves lapped at my waist scared"! So, part of it for me is definitely helping others with a fear of the sea! I really enjoy encouraging people to take part, that it is not all about surfing that barrel or standing on your board on your first go...there is plenty of time and if you are having fun then that is the important thing! ASI offers such a supportive role in my coaching, offering workshops and always being there at the end of the phone/emails!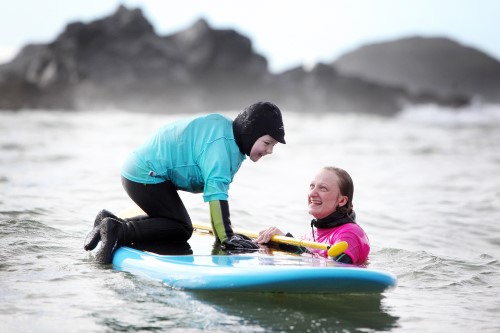 Has COVID changed what you do? How?
COVID, what a year...yes it has changed things a bit! I still coach and get out to sea, but it has to be a bit more distant but luckily, we are outside and to a degree not that close to people anyway! More focus on dry land drills, for both surf and SUP to make sure everyone understands what it is we are trying to do as I can't be as close! And it goes without saying, more cleaning of kit etc etc.

Tell us about funny or interesting or nice situation that has happened to you with instructing?
Ooo that is a tricky one so many things, so many stories! Oh, but one of my favourites has to be my 80 year old lady who had surfing on her bucket list! She had never put a wetsuit on before so that was the start of her adventure, many giggles and wriggles, we got her to the sea, explained everything...she caught a load of waves on her tummy and that smile is one I will NEVER forget. She was so proud of herself for doing it! She lasted a good hour before she turned to me and said "I have had a wonderful time but I think it is time for a lovely cup of tea now, don't you?"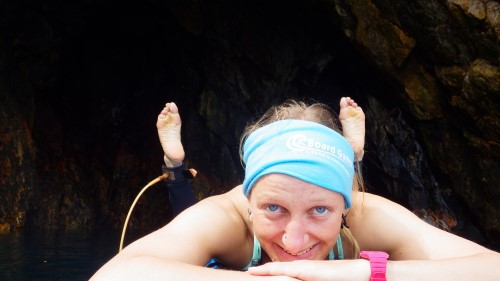 Photo Credits: Board Games Surfing
*****************************************************
About ASI
ASI is a professional membership organisation and international governing body for instructors, coaches and schools in the outdoor recreation industry for surfing, stand up paddle and bodyboarding.
We set the standards for education, accreditation, professional development and ongoing support for our members, offering pathways from entry level to elite level.
International Instructor and Coach Accreditation. You can travel the world with ASI.
ASI Accredited Schools abide by the high international standards for operations, training and safety.
www.academyofsurfing.com

#proudtobeASI, #academyofsurfinginstructors, #asi_academy #ASInstructor
#surfinginstructor #surfcoach #surfschool #surfwise
#supinstructor #supcoach #standuppaddleinstructor #supschool #supwise
#supyoga #standuppaddleyoga
#supfitness #standuppaddlefitness #supdownwind #supsurfing