HONG KONG. Introducing Esther Bland, an ASI SUP instructor based in Hong Kong. She runs a private training studio, right by the beach, delivering strength training to SUP to yoga to training with new and expecting mums.
What is your background?
My name is Esther. I'm from Hong Kong, and I run a private training studio called Aqua Terra Performance. We are right by the beach, and we do everything from strength training to SUP to yoga to training with new and expecting mums.
What got you involved in the sport?
I've rowed competitively since my time at university in the UK, and love being on the water. We're lucky to be so close to the ocean, so there are a ton of opportunities to participate in paddlesports. Dragonboat, outrigger canoe, surfski and SUP are all popular, and most people in the community cross over between the various disciplines. So once you've done one paddlesport, chances are you will get introduced to another. My rowing club has a big paddle section, and so thats how I got introduced to SUP.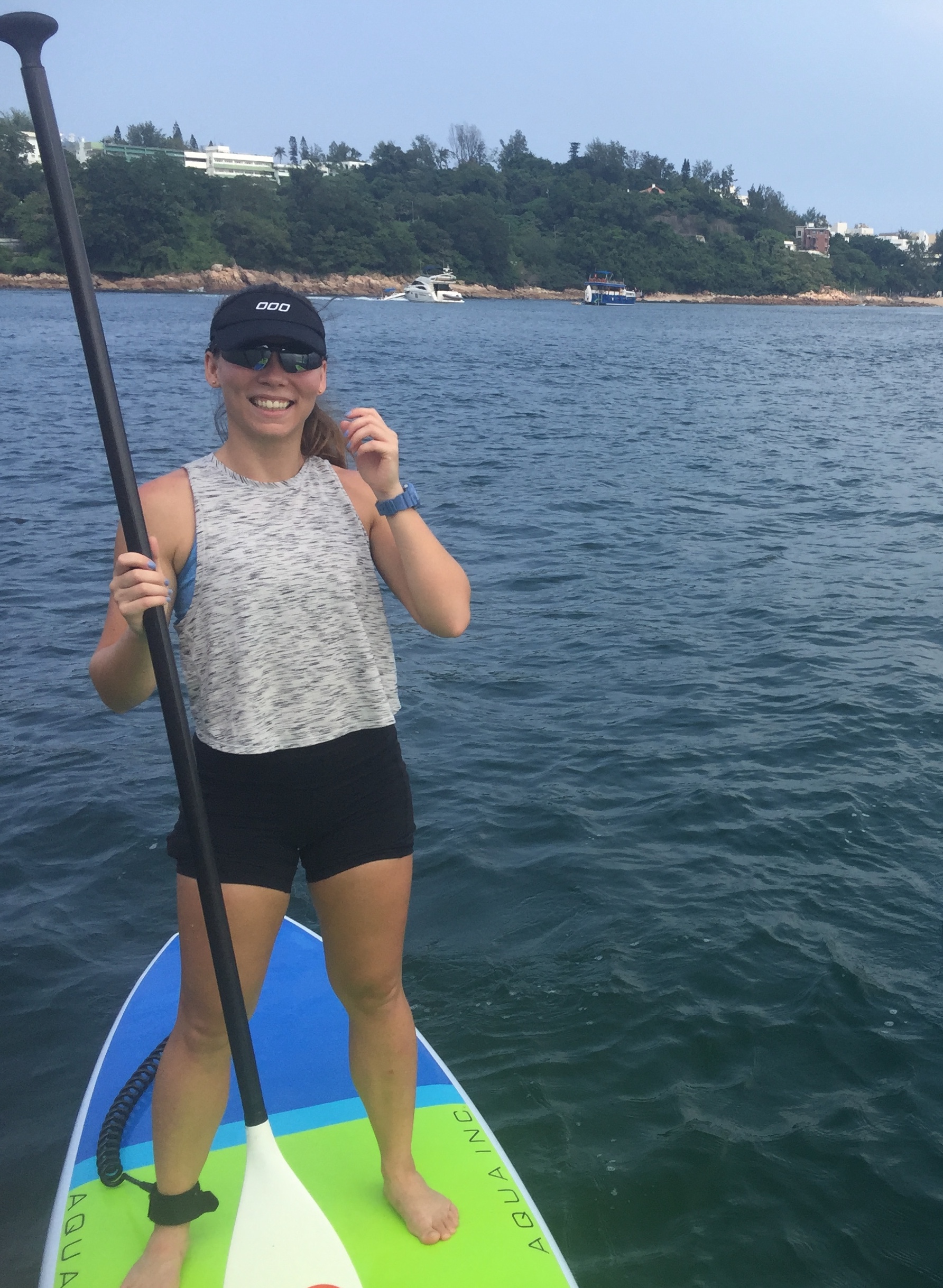 Why did you become an ASI instructor?
I became an instructor, because I think SUP is a great sport. It's great for building strength, coordination and balance. And it can be very low impact on your joints. Plus, you get to enjoy the sun and the sea. I wanted to make sure people were being introduced to the sport in a safe way that taught them good technique from day one.
What are you doing now?
I am busy running my studio and training clients! You have to do everything when running a small gym, from creating exercise programs to sorting out reservations and organising payroll and insurance. Every day is a little different. But I'm happiest when training or on the water with students.
What do you like about being an ASI instructor?
I like the confidence that the certification brings. I really value the training- especially the aspects focused on safety. I know that I can make the right calls to make sure my guests have the safest and most enjoyable experience possible.
Tell us about funny or interesting or nice situation that has happened to you with instructing?
I teach a lot of beginners how to paddle, and it is nice to see someone go from very apprehensive to loving being on the board. I am also are lucky to train a lot of clients when they are visiting Hong Kong on holiday. As a result, I've gotten a few families who've taken a lesson during their trip. It's fun to see sibling rivalry on the water, and to see a family bond over a healthy activity together.
*****************************************************
About ASI
ASI is a professional membership organisation and international governing body for instructors, coaches and schools in the outdoor recreation industry for surfing, stand up paddle and bodyboarding.
We set the standards for education, accreditation, professional development and ongoing support for our members, offering pathways from entry level to elite level.
International Instructor and Coach Accreditation. You can travel the world with ASI.
ASI Accredited Schools abide by the high international standards for operations, training and safety.
www.academyofsurfing.com

#proudtobeASI, #academyofsurfinginstructors, #asi_academy #ASInstructor
#surfinginstructor #surfcoach #surfschool #surfwise
#supinstructor #supcoach #standuppaddleinstructor #supschool #supwise
#supyoga #standuppaddleyoga
#supfitness #standuppaddlefitness #supdownwind #supsurfing