TAIWAN. Calvin Wei's background is in international logistics and marketing in Taiwan, but finds his way to relax his mind and body is writing, running, taking photos and doing water sports. An elite Athlete Calvin has competed In the Taiwan League series and Paddle games.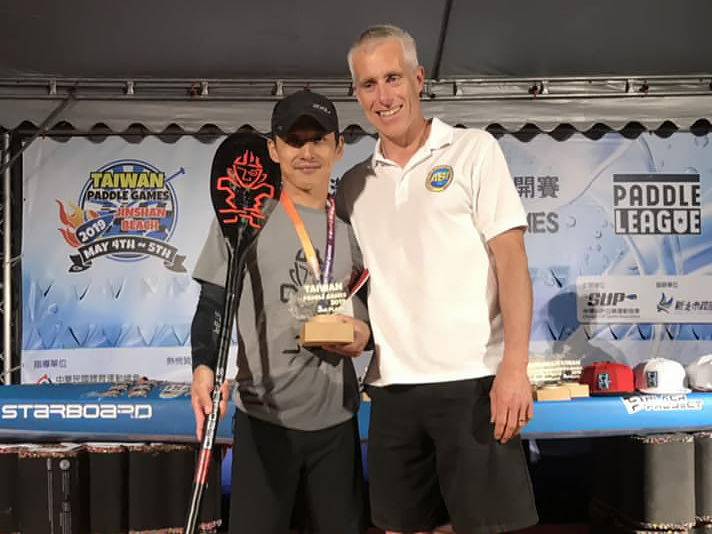 Kalvin has many strings to his bow, he's not only an ASI L2 SUP Instructor, he's also a Coach in the Chinese Stand Up Paddleboard (SUP) Sports Association and The Chinese Taipei Underwater Federation. Plus, he's also a Standard Water Safety Rescuer, First Aider and swift Water safety rescuer in The Red Cross Society of the Republic of China (Taiwan)
Exercise is an important element in Calvin's life. He used to take part in triathlons and started participating in water sports after learning swimming skills.
"I often Stand Up Paddle Boarded with like-minded friends in the early days, and we conquered many mysterious sights that require long trips to reach. I love the ocean and love SUP more."

Calvin was eager to take his paddle skills and knowledge of water safety to a more technical level and share what he had learned.
"I knew from Maggie and Ricky in Breeze SUP Academy that there were training courses at ASI, so I did not hesitate to sign up and became a qualified ASI Instructor."
Calvin writes articles concerning SUP equipment and skills on the Internet to share. On weekday, Calvin spends the mornings on the water near his home, self-training and planning long trips over 10 km with his board friends. These regular morning sessions help keep his performance, physical strength, paddle movements and various skills at a high level. During the holidays, Calvin serves as a coach at the SUP experience, demonstrating the basic techniques of SUP and related information to students.
"I am very honored to be an ASI instructor, and hope that I can learn more about various techniques and abilities of SUP. In the future, I would like to share my own professional experiences and competition skills with friends who also love SUP in Taiwan. My goal is to concentrate on nurturing young learners so that Taiwanese can shine in the future world as well."

At the beginning of a course at SUP experience Calvin often see students who are very afraid of getting close to the water:
"I always teach them how to approach the water safely, what kind of floats to use when playing with water, and how to apply SUP skills correctly with ease. In general, students can stand up smoothly and are no longer afraid of the water within 30 minutes of the course. Many students sign up again to take part in my course and enjoy sharing their experiences with me. The most fulfilling part of being a coach is to see the transformation of the students. I just want to share my knowledge of what I learned at ASI."

---

About ASI

ASI is a professional membership organisation and international governing body for instructors, coaches and schools in the outdoor recreation industry for surfing, stand up paddle and bodyboarding.
We set the standards for education, accreditation, professional development and ongoing support for our members, offering pathways from entry level to elite level.
International Instructor and Coach Accreditation. You can travel the world with ASI.
ASI Accredited Schools abide by the high international standards for operations, training and safety.