As the Southern Hemisphere break out the board shorts and sunnies in preparation for another glorious summer season it is time for an annual reminder that time spent baking under a cloudless sky should be approached with a little caution and care.
As we all know, when the waves are firing and the sun is smiling it is easy to lose track of time. Sessions in the surf can see morning gently step into afternoon, and before you know it you're walking home against a setting sun with jelly arms, and empty stomach and a serious case of sunburn.
The same rules apply to stand up paddlers. When the days are warm and long it is easy to get lost in the simple joyful act of paddling and forget about that bright yellow thing in the sky and the damage it is capable of.
Exposure to the sun's ultraviolet rays is the major cause of sunburn. The impact is generally strongest between the hours of 11am to 3pm, but not exclusive to this time window. If the sun is in the sky it can burn the skin.
For water users, the sun's rays reflecting off the water can increase the exposure. So, how do we combat the sun and keep ourselves safe?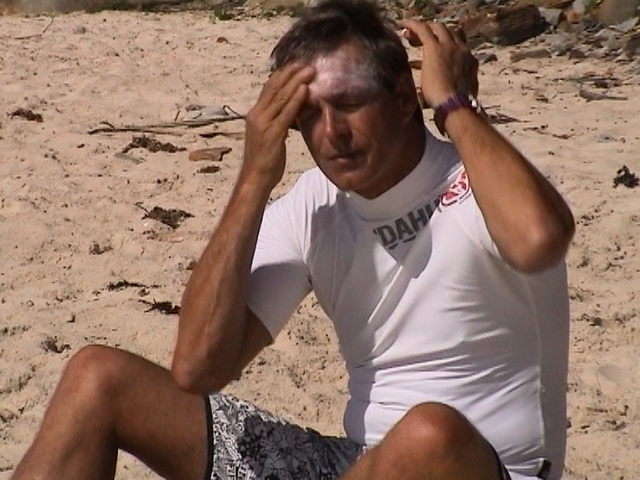 In large it is about remembering to take precautions before heading out. Making the simple little things such as applying sunscreen an act of instinct as obvious as remembering to take your board with you can prove hugely beneficial.
To Avoid Sunburn
Wear sunscreen on all exposed parts of your body and re-apply regularly.
Wear protective clothing (eg, a rash vest).
Wear a hat and sunglasses when watching the surf or paddling your SUP.
And, be especially careful between the hours of 11am and 3pm. Maybe even take a break during this window.
Sunscreen
Surfers and paddlers prefer to wear zinc-based sunscreen. It isn't harmful to the planet, won't slide off your face in tropical heat or sting your eyes and lasts as long as you want to be out in the water.
Read why zinc is one of the best natural sunscreens here.
Heat Exhaustion and Heat Stroke
Things can get serious pretty quickly if precautions are not taken in the heat. Exposure to the sun for prolonged periods can cause heat exhaustion and heat stroke.
The body heats up and is unable to cool itself effectively. Where heat exhaustion is treatable by cooling a person, heat stroke is a medical emergency.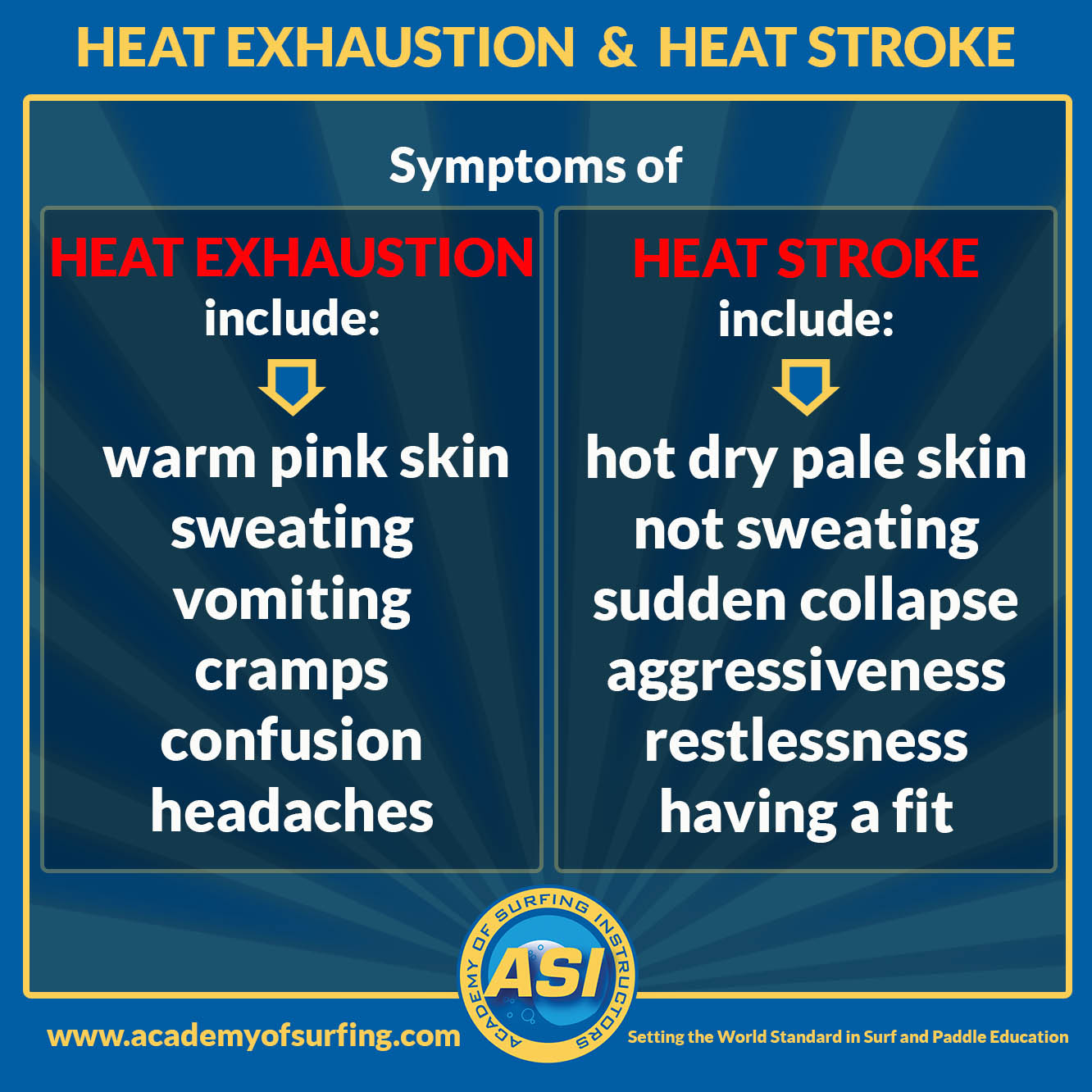 Actions to take if someone is suffering from heat exhaustion:
Move them to a cool place.
Get them to lie down and raise their feet slightly.
Get them to drink plenty of water.
Cool their skin with a spray or cool water sponge, and fan them. Cold packs around the armpits and neck are also good options.
Heat stroke meanwhile requires a call to emergency services as it can be a very serious condition if not treated quickly.
Dehydration
It is also vital to ensure you are fully hydrated when out on the water or surfing. If possible take a plentiful supply of water with you to drink whilst paddling, or to refresh on the beach mid-surf. And remember, feeling thirsty is the first sign that you are already dehydrated and need to act.
With just a few simple precautions taken, every summer season can be filled with unforgettable memories of great surfing and long paddles where the only things getting you hot under the collar are the crowded line-ups.