You have got your ASI SUP instructor qualification, perhaps you've even gained your ASI accredited SUP school status and with the help of the ASI you've figured out the finer details of setting yourself up an instructor, such as insurance, water access, board licences and the all-important marketing strategy. Or maybe you've scored the dream job at a water sports activity centre and now it's time to start investing in some gear.
One of the most critical decisions you'll make is kitting yourself out with the best gear for your role as SUP instructor. In this post, we'll take a look at a few important factors to consider when selecting your board, paddle, safety equipment and clothing so you can get on with the business of teaching without worrying about having the most appropriate kit for the job.
The Paddleboard
Arguably the most essential bit of kit in your instructor arsenal is your board. Not only does it have to be reliable, but it also needs to be flexible out on the water too. There are so many boards out there these days and it seems like there are new manufacturers popping up every day. As an experienced paddleboarder, you may already have a preference for board shape and make but it's worth giving some thought to the following.
You are going to be using your board to demonstrate stroke, safety and self-rescue techniques on dry land as often as you are on the water so an easy and robust fin system can be super handy, saving you precious session time and costly fin snapping episodes!
Pro tip: A couple of car tyres can be a great board support for dry land demonstrations.
Think about the location you will be teaching in; rivers and straight-line touring might benefit from a narrow, fast, tracking focused board shape that means you can zip from the front to the back of the pack quickly and be on the scene rapidly should anybody need assistance during your session. Out on the sea, amongst the waves will naturally need a surf-friendly board shape with a rocker and thruster fins.
If your session is going to be safety skills focused or perhaps looking at pivot turns and other fancy moves then a shorter, more manoeuvrable board might be the go. Consider having a couple of boards that you can select depending on the type of session you're teaching and the kind of demonstration you want to give.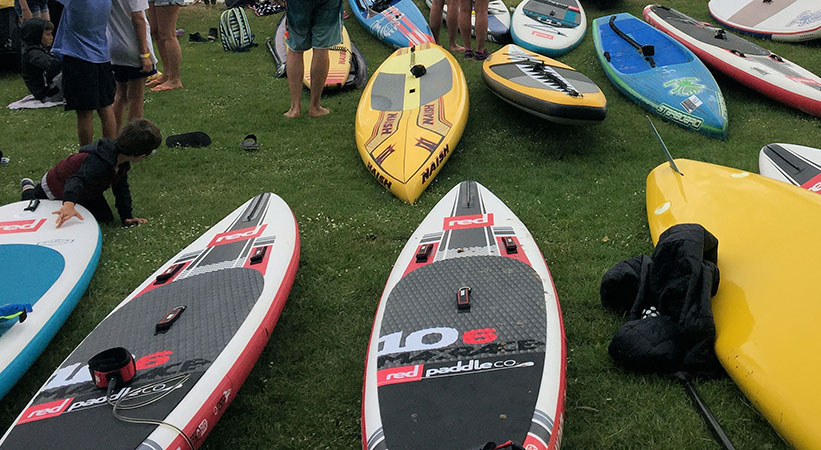 The Paddle
There are no right or wrong answers with paddles, you need to test as many as you can and find the perfect blend of materials, weight, construction and blade shape that works for you.
Given that you are going to be spending a lot of time on the water paddling with an emphasis on instruction (you're not going to be racing) then look at something constructed of lightweight carbon (anything over 50% carbon will make a huge difference compared to aluminium or fibreglass), aim for some flexibility in the shaft to take the pressure off your forearm muscles during a long day of instructing and a classic teardrop-shaped blade for efficient paddling power.
The Leash
You'll be utilising the appropriate safety gear to ensure good role-modelling and to be able to demonstrate how to use such equipment. The leash is a critical element of safe paddling. Always wear a leash. Go for a good long leash in surf conditions, whilst in flat water whether on inland waterways or coastal regions use a coiled leash or waist leash.
The Buoyancy Aid
The buoyancy aid is an optional piece of safety equipment that is often not used by strong swimmers and adept paddlers. It is worth noting that although a buoyancy aid or personal flotation device (PFD) aids flotation, it can at times prove cumbersome for novice paddleboarders trying to get back onto their board after a fall.
The use of a buoyancy should be considered based upon individual confidence and competency on the water. In addition, always be mindful of local regulations as some countries consider the wearing of a buoyance aid to be a legal requirement.
The Essentials
Most instructors like to travel light but you need to ensure you have the essentials covered in terms of safety and accessibility. A small dry bag is usually enough to carry an appropriately packed first aid kit, a mobile device and hydration as a minimum.
You can even explore waterproof bum bags, larger deck bags and the creative use of carabiners to clip essential tools within easy reach.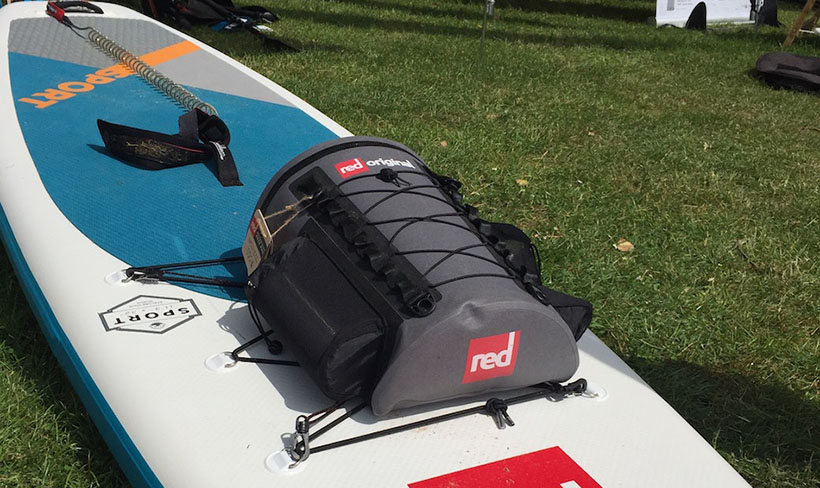 The Clothing
What to wear for paddling is something that your customers will ask you all the time so it's a good idea to know what works and what doesn't. A good guide for most fairweather situations is gym/yoga type clothing, something light, flexible and quick drying.
If you are likely to be teaching more technical moves such as turns or demonstrating self-rescue skills then you might want to get yourself a reliable wetsuit. A wetsuit should always be suitable for the water temperature in your location but with SUP you should give some consideration to flexibility, especially for a full range of movement in your shoulders.
You can explore long-john style wetsuits that can be combined with a wetsuit jacket or perhaps look at wetsuits designed for open water swimming that are more likely to give extra flexibility in the arms.
The Accessories
As you develop your own instructor style and learn from experience the unique needs of your customers in your own teaching environment you will start to build out your own ideas of what is handy to have with you, just in case, and what is just superfluous weight.
A few ideas of handy extras to think about adding to your kit might be:
Hand-paddles, a lightweight alternative in case of a sunken paddle
A convertible SUP-to-kayak paddle option in case a customer gets tired or is otherwise needing to paddle seated.
Healthy snacks to keep your energy levels topped up during a busy day
Sunscreen, cap or sunhat (that won't get taken by the wind!)
Don't forget to take a whistle too, not just to call for help in an emergency but to signal to other paddlers should they move out of shouting range.
It's always a good idea to ask fellow instructors what they have found to be useful and what has been a waste of money. Keeping things simple is always a good idea and you will soon learn what works best for your unique situation but don't be afraid to ask for help and advice, the ASI SUP community is always more than happy to help!