About SUP Wise
SUP Wise is a learn to stand up paddle program created by ASI. It has been designed to make learning easy. Its unique modularised program allows you to progress at your own pace to maximise your success.
Each level identifies different SUP skills and knowledge, based on the location and techniques.
SUP Wise has learn to SUP manuals and student workbooks, suitable for individuals or school groups.
Certificates can be issued on successful completion of the program
Learning outcomes align to the Australian Education Department VET standards, making it ideal for school sports programs.
SUP Wise is delivered by ASI Accredited SUP schools. Now learning to SUP is easy.

ASI SUP WISE PUBLICATIONS & CERTIFICATES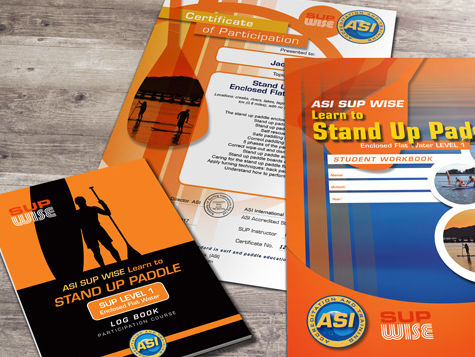 ASI SUP WISE LEVELS
Flat Water Foundation Skills
ASI SUP Wise
Level 1 Enclosed Flat Water

This is your first step in learning how to SUP. It applies to inland waterways with calm flat waters. Learn how to identify safe conditions, locations, self rescue techniques, equipment, paddle technique and more.

ASI SUP Wise
Level 2 Exposed Waters

For paddling in coastal locations or large inland bodies of water where there is potential for uneven, choppy waters and swell up to 2ft but no breaking waves. You will learn new safety location information and paddle techniques to stay balanced and negotiate the swells.

Downwind Flat Water Stream

Downwinding utilises the wind and the energy of the ocean swells to assist the paddler. It requires SUP skill, strategy and endurance to judge the peaks and troughs (runners) and catch these to propel you along, whilst keeping the wind on your back.

Racing Flat Water Stream

ASI SUP Wise
Level 3 Ready to Race

Flat water race skills, recreational or competition level.

SUP Surfing Stream

ASI SUP Wise
Level 3 Beginner Surf
This is the first step in learning to SUP Surf. SUP surfing is a specialist discipline of SUP. Learn about SUP surfing hazards and safety and how to ride small breaking waves up to 1½ ft. You must first be a competent paddler at the Exposed Waters level.

ASI SUP Wise
Level 4 SUP Intermediate Surf
Learn how to perform SUP surfing manoeuvres, read the waves, choose suitable waves to ride, perform and link manoeuvres whilst using your paddle to full effect a 3 - 4ft peeling waves.

ASI SUP Wise
Level 5 SUP Advanced SUP Surf
The most experienced SUP surfers. Perform advanced level SUP surfing manoeuvres in surf up to 6ft. Successfully link manoeuvres with effective use the paddle.