About SUP Wise
ASI SUP Wise is a learn to stand up paddle program created by ASI, for the different types of SUP disciplines.
There are different levels of SUP Wise programs - from entry level skills, some self sufficiency to competent paddler.
---
Enclosed Flat Water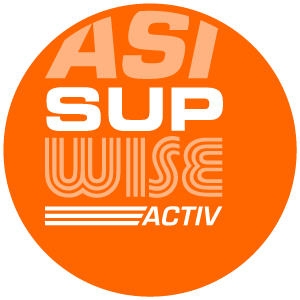 SUP Wise Activ (Enclosed Flat Water)
Fun on water practical introduction sessions with progression.
The ideal way to gain some skills and confidence in paddling.
Duration: 3 sessions (2 hours) each. (1) Starter (2) Improver (3) Cruiser. Book into the 3 sessions or do one session at a time.
Bonus: SUP Wise Activ logbook is a handy momento. With some key knowledge points, log pages to record your sessions, and sign off page when you complete each level.
Book: through an ASI Accredited School. Find schools.
More info....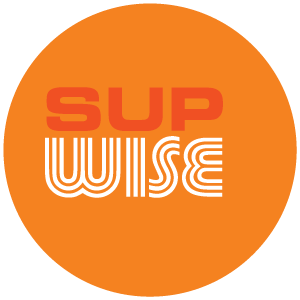 SUP Wise Level 1 (Enclosed Flat Water)
This structured program is delivered over 10 hours with on water practical sessions. Covers key knowledge and technique paddling skills, to get you paddling with confidence and some self-sufficiency.
Duration: 10-12 hours (5-6 sessions) on water practical.
Content: Covers location, environment-weather, wind, tides, safety, hazards at the location you are paddling at, plus correct use of equipment/clothing and paddle techniques strokes and skills.
Bonus: SUP Wise Level 1 logbook, with the competencies required for competent paddling, log pages to record your session, and sign off page confirming you have completed the 10-12 hour program.
Certificate of participation issued on completion.
Book: through an ASI Accredited school. Find schools.
More info...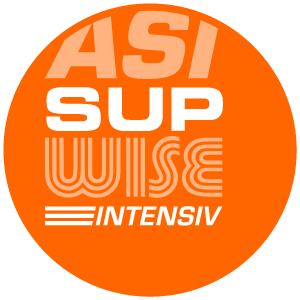 SUP Wise Intensiv (Enclosed Flat Water)
Providing more broad based, in-depth knowledge and skills so you are paddling with ease and be self-sufficient. Online course with video analysis of your own paddle stroke.
Duration: approx.. 8 hours theory, to view in your own time, online quizzes to test your knowledge, plus obtaining video of your own paddle stroke and other SUP skills and submit for assessment.
Content: Different locations types, the SUP environment-weather, wind, tides and how it affects paddling, hazards, types of equipment and accessories to use or not use, clothing. Techniques with videos cover skills from entry/exit, turns, methods to get back on, paddling direction, and the 5 phases of the paddle stroke.
Bonus: Online manual for 12 months, video for assessment with your own personalized feedback.
Competency Based. Yes. This means you need to pass the course requirements to obtain your certificate / ASI SUP Paddlers card.
Book: through ASI Find locations/dates
More info....
---
ASI SUP DISCIPLINES

Enclosed Flat Water
​
This is your first step in learning how to SUP.
Inland waterways, no more than 1km (0.6mi) wide
Flat water with no swell or breaking waves, wind speed less than 12 knots, water flow less than 4 knot, water depth no less than 1m (3ft), a minimum of 200 metres (650ft) from river mouth, no more than 250 metres (820ft) from shore.
---
Exposed Waters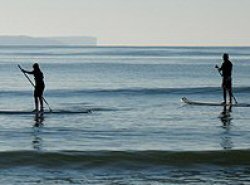 Paddling in coastal locations or large inland bodies of water where there is potential for uneven, choppy waters and swell up to 2ft but no breaking waves.
You should already be competent at paddling in flat water locations.
---
Downwinding
​
Downwinding utilises the wind and the energy of the ocean swells to assist the paddler. It requires SUP skill, strategy and endurance to judge the peaks and troughs (runners) and catch these to propel you along, whilst keeping the wind on your back.
Ocean locations, 4ft swell, wind speed 20 knots, 10km distances.
---
SUP Surfing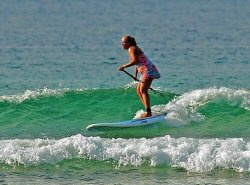 Beginner Surf
This is the first step in learning to SUP Surf. SUP surfing is a specialist discipline of SUP.
Ride small breaking waves up to 1½ ft. You must first be a competent paddler at the Exposed Waters level.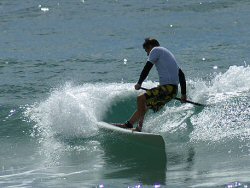 SUP Intermediate Surf
Perform SUP surfing manoeuvres, read the waves, choose suitable waves to ride, perform and link manoeuvres whilst using your paddle to full effect a 3 - 4ft peeling waves.
SUP Advanced SUP Surf
The most experienced SUP surfers. Perform advanced level SUP surfing manoeuvres in surf up to 6ft. Successfully link manoeuvres with effective use of the paddle.
---