There comes a glorious point in every surfer's journey where they feel ready to take the step from beginner boards to something a little more precise in the surf. Sure, it was fun enjoying those first frays into the ocean on something that allowed the emphasis to be on learning to stand and ride, and fall of course. But before long, every blossoming surfer wants more from their session.
When the moment comes it should be celebrated. It is a moment of great achievement. Learning to surf is no easy task. And to surf well requires dedication, determination, and a whole new board.
But which board, is the right one?
With such an array of shapes, sizes, fin setups, build components, and various other elements, it can be a daunting step and a big decision. And all this is before we factor in the even more critical element of all. Namely, you.
How are you as a paddler? How are you naturally built? How is your overall fitness? Where do you surf? And so on, and so on it goes until heads are spinning and the memories of a big old foam board hark back to simpler times.
Well, fear not. Here at ASI we are a friendly, helpful bunch and what follows are a few tips on choosing the right board for the intermediate surfer and some helpful advice from a few of our very own ASI surfing professionals.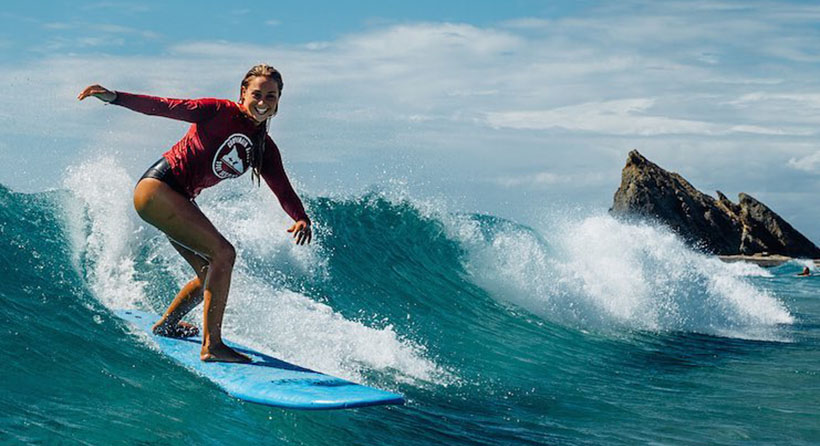 Where to Begin?
As mentioned, one of the very first things to consider before you look at board dimensions and so on, is yourself. Where you surf, your ability, and your build are all going to be important factors in board choice.
It is definitely time to find the board that sits somewhere between the big, wide, long beginner ride, and the short, lightweight high-performance boards used by the more advanced surfer. But this leaves a wide range of boards touting themselves as your next stick.
Here are some things your intermediate board could have:
A slightly smaller overall area (plan shape) than the beginners board to offer greater maneuverability in the water.
A full round or rounded square tail to make the board easier to turn.
A full area nose offers more planing surface in the water giving the surfer an easier time getting over flat sections.
Thickness of the board is dependent upon the weight of the surfer.
Look for a board that is at least 4 to 6 inches taller than you are.
We now head begin for the scenic magnificence of the Pembrokeshire coast, and the capable hands of ASI Trainer, Phil Sadler. Owner of Pembrokeshire Surf School. Phil further highlighted the need to not simply grab the board that looks coolest on the rack.
He said, 'All the big-name board makers have volume calculators based on weight and perceived skill level. This is quite accurate to an extent, but the key things they don't tell you and cannot really gauge, are surfer paddle power and fitness.
'Pretty much all good turns in surfing come from speed, so any board that allows you to go really fast (with control) in the conditions you have on any given day will help you to improve your turns. Remember surfboard size is entirely subjective and relative to you only, so just because it works for the world champ doesn't mean it is right for you.
'Avoid literally copying a better surfer, especially if your skill level and size/weight are hugely differing. Avoid boards made for world class reefs and points if you only intend to surf in average 1-3ft beach break surf.
And as Phil noted, the drawback of choosing the wrong board can be costly in more ways than one.
He added, 'It can be an expensive mistake! You will generally plateau or go backwards in your surfing progression. Too short (relative to you) means your wave count and speed are likely to drop so that essentially you cannot practice effectively. Too big (relative to you) means you struggle to turn and control the board.
Avoid listening to the sales tactics of a surf shop assistant who has no idea how you surf. Instead get a coach who knows your level to help you choose.'
A valuable insight from a font of experience and knowledge. The key thing is to consider who you are currently as a surfer. Not what you want others to perceive you as, or where you want to be. Being honest with yourself about where you are now in terms of ability and physicality will help you pick the perfect board for your continued progression. And as noted by Phil, the wrong selection can actually see you go backwards on your journey.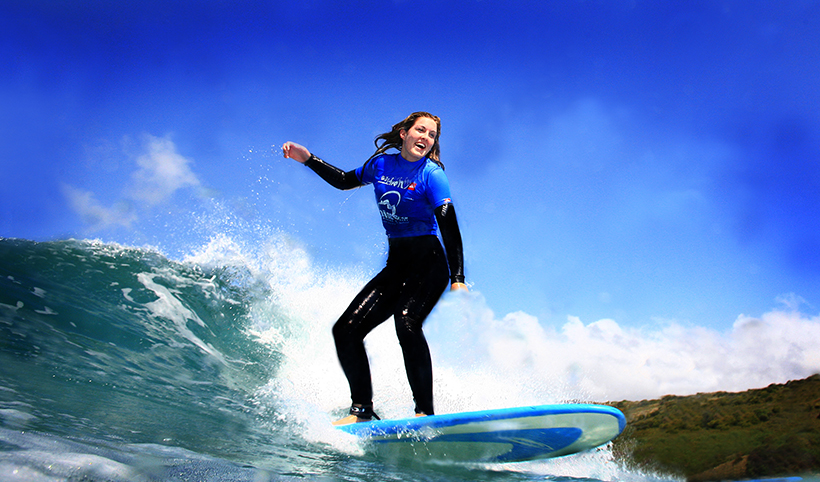 ASI Trainer, Robin Ross, owner of Freewave Surf Academy offered the following nuggets of advice, said, 'The most common problem is that people move off of a beginner board and on to something more intermediate too early in their learning. Keep the length long, the width wide and volume high to keep improving.'
There are some clear echoing themes at play when it comes to making the step from beginner to intermediate surfing.
At the intermediate level don't be overly concerned about the thickness of the board you choose. Most boards will have a good foil throughout. If you are purchasing off the shelf in a local surf shop, go pre-armed with the knowledge that you know where you are as a surfer more than the shop assistant. You know your local breaks and the waves they produce. Don't be afraid to call your own shots, in the long run choosing the right board now takes you to the super-cool shortboard standard much quicker.
For our final stop we check in with hugely experienced surf coach and ASI Trainer, Martin Connolly, owner of Discovery Surf School who highlights the value in seeking a surf coach for advice.
He said, 'Ideally get some advice from a surf instructor that has seen you surf. For example, if your pop up is really efficient then you might be able to go for a board with less volume, and vice versa.
'If possible, try a range of boards for yourself, then you can learn for yourself; this helps you to decide which board to purchase next.
Martin also echoes the importance of considering where you'll spend most of your time in the water.
'Take into account where you will be surfing most of the time, for example, if it's a longboard style wave then then maybe go down that avenue. Or, if you are mainly surfing a punchy beach break which has short powerful waves then a shorter board would be good, but still have plenty of volume for paddling and stability. It's also down your personal preference on which type of surfing you prefer.
Key point with board choice is that its big enough to be able to catch waves, if you can't catch waves it's not going to be much fun. However, don't get too hung-up over board choice. The main thing is water time and enjoying your surfing. That's going to make a bigger difference to your surfing than two or three inches of board length. Save that for when you are more experienced and 1/8 inch can make a difference to your board's performance.'
As an additional bonus, Martin has a whole range of videos out in the wild that discuss such factors as board dimensions and volume, tails and rails, and other potential pitfalls for those fresh to the surf such as what exactly is board rocker?
You can dip into the videos here.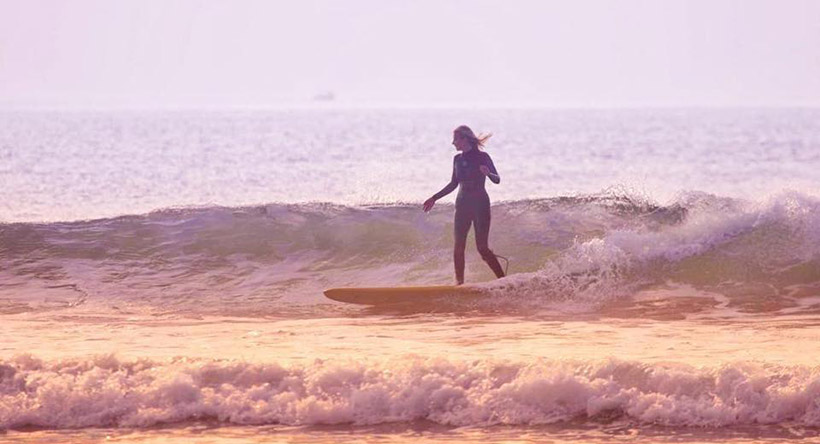 Taking into account all we have heard, there are a few recurring themes.
Before thinking about details such as board size and shape, first consider your own current position as a surfer. Your own build, fitness and ability. Your location and personal wave preference. Use these as the blueprint for board choice.
Don't be drawn into choosing what the pro's are riding. It might look cool from the car to the water, but will almost certainly prove frustrating during the session. Your time for those boards will come, and choosing right at this moment will see that time arrive quicker.
There is no 'one size fits all' at this point in your surfing adventure. Where once the options were limited and generally foam-based, they are now pretty much limitless. Every surfer will have their own needs when it comes to that intermediate board.
In seeking a definitive answer to the question of which board the intermediate surfer should choose, we gain the understanding that no such definitive answer exists. The board is built around the surfer, never the other way around.
And, most importantly, have fun out there! Enjoy the learning process. There are few as rewarding in the sporting realm. You will see sights and experience highs few others on this planet will be so fortunate enough to share.
And when the wipeouts come, and they will, you can take it with a little smile in the sweet knowledge that you are a surfer.
You are one of the lucky ones.