The Singapore Canoe Federation (SCF) and ASI have joined forces in order to support the huge growth in the sport of SUP in Singapore. The SCF is the National Sport Association for all water paddling sport in Singapore whilst the ASI is the world leader in SUP education and operational accreditation standards; we hope this collaborative effort will allow stand up paddleboarding to grow in Singapore with increased focus on skills and safety.
The partnership combines the best of both entities with ASI focussing on education, allowing SCF to put resources into growing the sport, with exciting new initiatives planned for SUP participation.
"This partnership is a great testament to how committed SCF is to developing SUP. The ASI is thrilled to be working with SCF and the exciting vision they have for SUP in Singapore". Said ASI Director and Founder, Tania Nesbitt.
SUP has seen an explosion of interest across the globe, not least because the restrictions placed on us all in the last 12 months due to the COVID pandemic has seen us spending our outdoors leisure time locally.
SUP exemplifies the perfect blend of physical and mental wellness and collaborations like this really help to support these sorts of positive activities.
ASI SUP trainer, Tony Lee has been instrumental in supporting this collaboration and we asked him to give us a bit more information on this exciting partnership.
SUP has seen enormous growth in Singapore; what's causing this?
Travel restrictions due to the pandemic have resulted in a 'surge' of people not just coming to the beach, but also taking up sea based sports over the past month. We've seen this trend from mid 2020.
Also word of mouth of people who have done the first lesson and are coming back for more and sharing with their friends about this new sport!
Who are you seeing taking up SUP in Singapore?
Groups of 100+ regular SUP paddlers, Sports clubs, SCF and 2 ASI accredited schools are promoting SUP on a regular basis through their centers. SUP Paddling is done 7 days a week through the center and classes are conducted weekly by the respective centers.
Where can people learn SUP
People can learn SUP from 2 ASI accredited Schools in Singapore, namely Constantwind and Passion Wave.
Who are the SCF?
The Singapore Canoe Federation (SCF) is the National Sport Association for all water paddling sports.
How are they involved with SUP?
SCF has been very supportive for the development of SUP in Singapore. With the recent set up of SCF/SUP Sub committee, the new team has been actively promoting SUP through the general public and through the schools and organizations in Singapore.
Why did SCF choose to partner with ASI?
ASI has been in Singapore since 2010 and there are instructors who have been teaching ASI SUP starter courses since then. The reason SCF chose the ASI is because of the high standard of Instructor training and the quality teaching materials available for the students.
What will this partnership mean for SUP in Singapore?
This partnership means that now SUP can move forward with professional ASI Instructors and a high standard of structured teaching materials for SUP students. This will lead to more events for SUP at local and national level. Races will be organized to ensure that SUP's presence will be felt in the months ahead.
What about SUP Instructor training?
With the ITC center in Singapore and SCF/SUP endorsement to the instructor's training program, the high standard of the SUP training delivered will continue and the standards will be maintained.
Will you be deploying SUP wise courses?
Since Jan 2020, SUP Wise courses have become the main program for all students learning SUP. Students are put through 10 hours of theory and practical sessions. The total number of students that completed the SUP Wise Level 1 program as of December 2020 is 116. With another 467 students who are in the process of getting their SUP Wise Level 1 certification.
What SCF is planning for the future of SUP racing and competitive SUP?
SCF/SUP Sub committees are involved in promoting and getting more people into the sport. Plans are underway for each center to conduct one race every quarter for SUP enthusiasts and 23rd of January 2021, we will see the first Kids SUP race, featuring the 100m, 200m sprint and 500m, 1000m distances. These races will be for ages 8 to 14 years old and we expect around 50 kids competing in this event.

Thanks for taking the time to speak to us about this marvellous collaborative effort, Tony! It looks set to raise the profile of SUP in Singapore over the next few years along with raising the standards of SUP skills and safety awareness that the ASI is known for; exciting times ahead!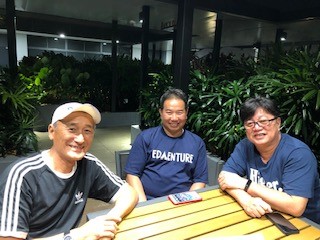 Photo:
L-R: ASI Trainer Tony Lee, Mike Lim -SCF/SUP Secretary, Henry Sim - SCF -General Secretary
*****************************************************
About ASI
ASI is a professional membership organisation and international governing body for instructors, coaches and schools in the outdoor recreation industry for surfing, stand up paddle and bodyboarding.
We set the standards for education, accreditation, professional development and ongoing support for our members, offering pathways from entry level to elite level.
International Instructor and Coach Accreditation. You can travel the world with ASI.
ASI Accredited Schools abide by the high international standards for operations, training and safety.
www.academyofsurfing.com
#proudtobeASI, #academyofsurfinginstructors, #asi_academy #ASInstructor #asischool
#surfinginstructor #surfcoach #surfschool #surfwise
#supinstructor #supcoach #standuppaddleinstructor #supschool #supwise
#supyoga #standuppaddleyoga
#supfitness #standuppaddlefitness #supdownwind #supsurfing
​#standuppaddle #sup