Take a walk over any beach or coastal area and you will generally find sand dunes. They come in all different shapes and sizes and are formed by wind or water flowing over them.

They are hugely important to protect inland areas from coastal flooding caused by storms, wind and waves. They are also home to local flora and fauna that is only found in sand dunes. This vegetation is what binds the sand dune together.

Human traffic destroys them
The grasses and plants that thrive in sand dunes are very hardy to the harsh environment of salt, sun, heat, and a limited water supply. But they cannot survive being trampled by human traffic or trampling.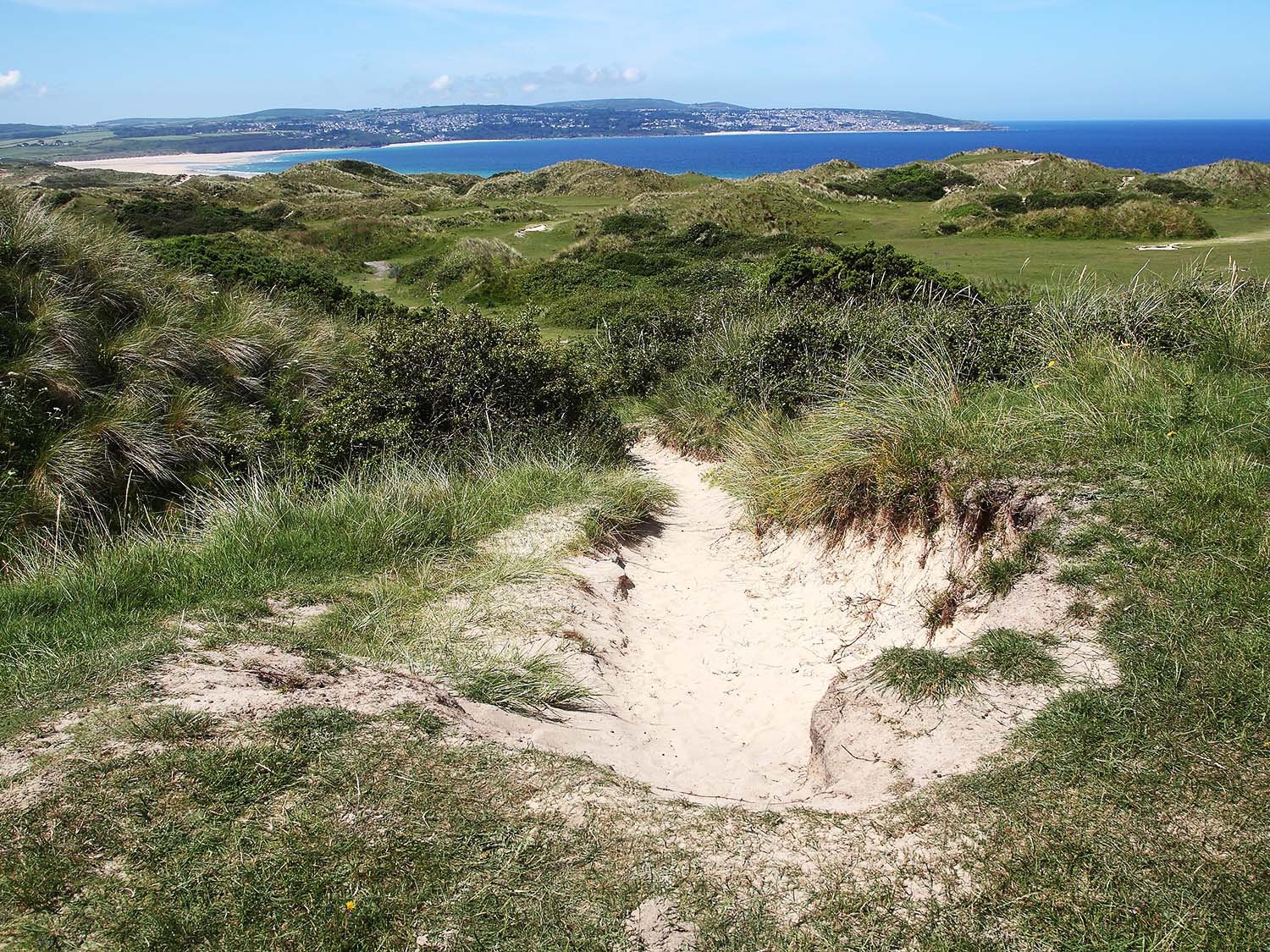 The plants have thick, brittle stalks which snap easily when trampled or driven upon. Just one vehicle or a few people passing over the dune at the same point will completely kill a strip of grass. Without these essential plants holding the dune together the sand dunes simply blow away which can result in severe flooding to inland areas.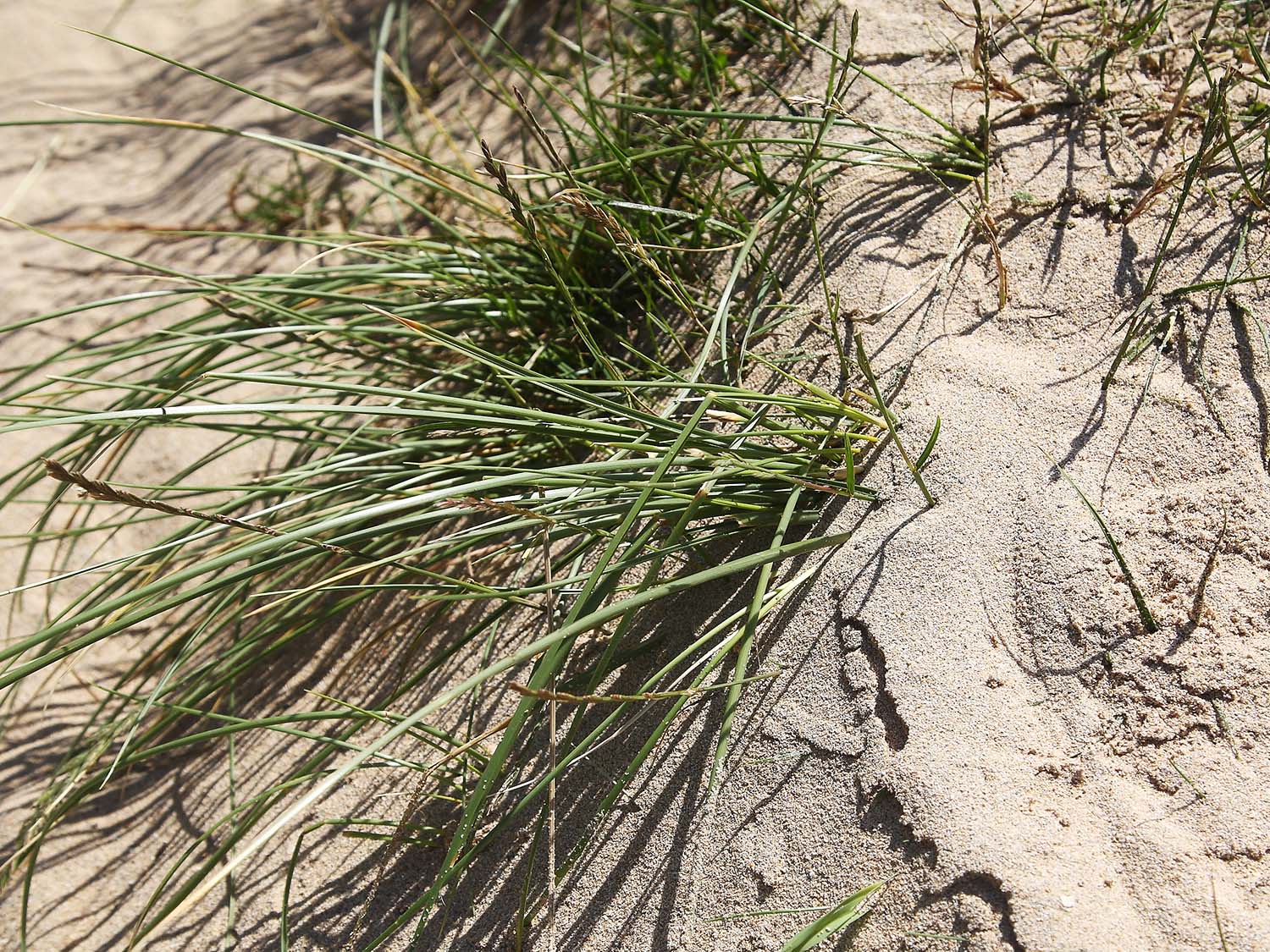 Unfortunately, around the world human impact is the main cause of our sand dunes disappearing. For example, in the last 30 years, mainly because of tourism, nearly 75% of the Mediterranean's coastal dunes have been damaged or destroyed due to human tramping, or vehicles driving on them. (source: https://en.wikipedia.org/wiki/Sand_dune_stabilization)

A sand dunes case study
In a small country town Gwithian in Cornwall UK (about 4 ½ hours' drive south west of London) are Gwithian Towans (Towans is Cornish for sand dune). This 3-mile-long stretch of sand dunes run the length of St Ives Bay and is an area of Site of Special Scientific Interest and is a protected nature conservation area.

The Towans are home to a unique variety of wildlife and plants including the pyramidal orchid, glow worm, adder, skylark and the rare silver-studded blue butterfly. (source: https://en.wikipedia.org/wiki/The_Towans)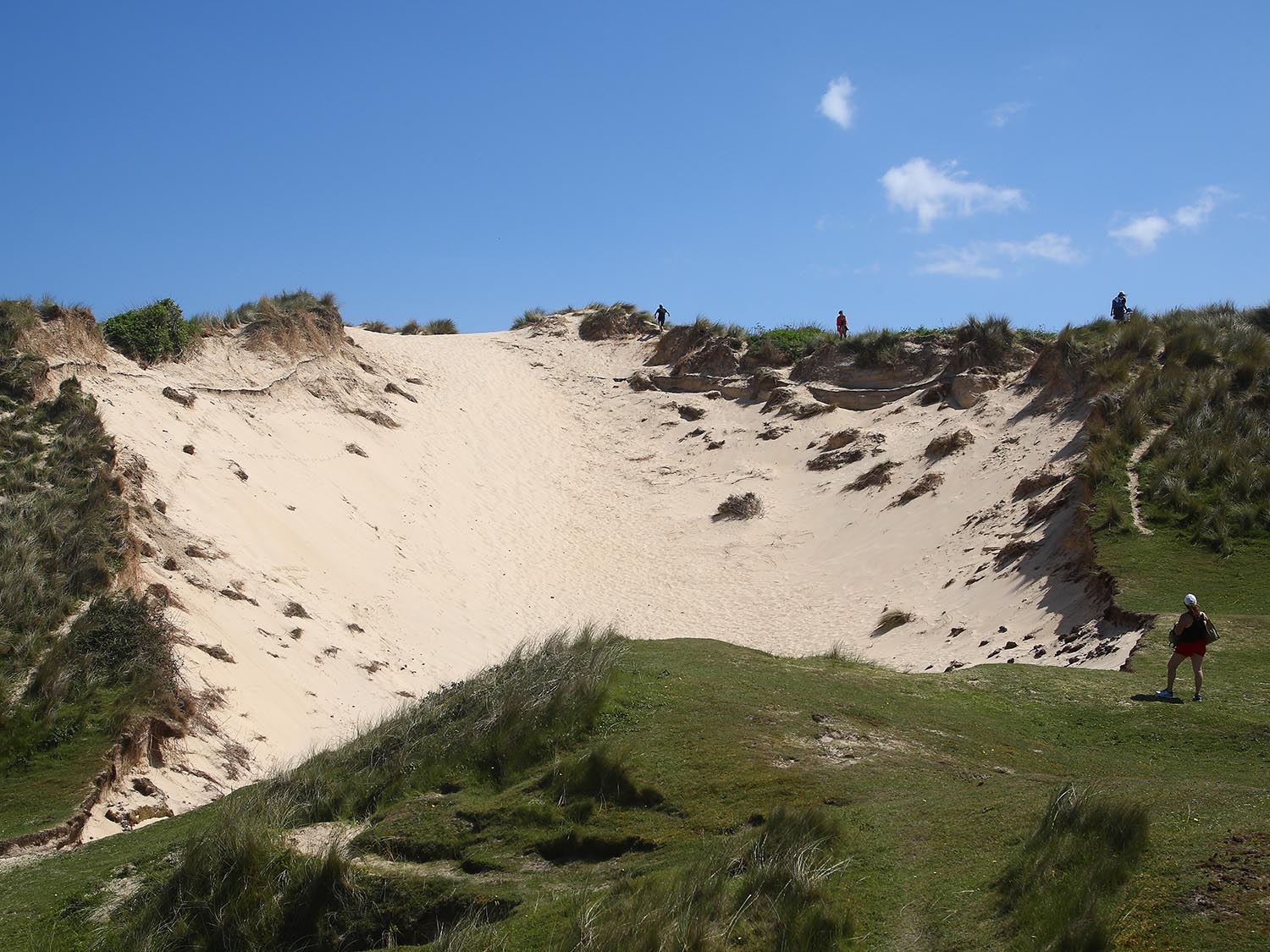 A rare butterfly found on Gwithian Towans
The eye-catching Silver-Studded Blue Butterfly is one of the UK's rarest butterflies They are found in close-knit colonies, as they seldom fly far. A few square meters of the towans is host to the "largest population of the silver studded blue found in the UK." Says National Trust Ranger Nick Holden, who looks after the site.

The black ant and the butterfly
This butterfly has a fascinating and important relationship with a species of black ant. The butterfly's eggs are laid close to the ground on plants that the larvae can eat such as local heather, bird's-foot trefoil and gorse. When the larvae are ready to pupate, they are carried underground by the ants, usually into an ants' nest. The adult butterfly emerges in late June and crawls out of the nest in the company of a cluster of ants. These protect the vulnerable butterfly while it dries its wings for flight. In return the black ants feed on sugary secretions from its body. This process is called mutualism whereby both species benefit each other. (source http://www.cornwallwildlifetrust.org.uk/species/silver-studded-blue)
You can see from this case study that there are rare plants, insects and unique inter-relationships in nature which rely completely on the sand dunes for their survival.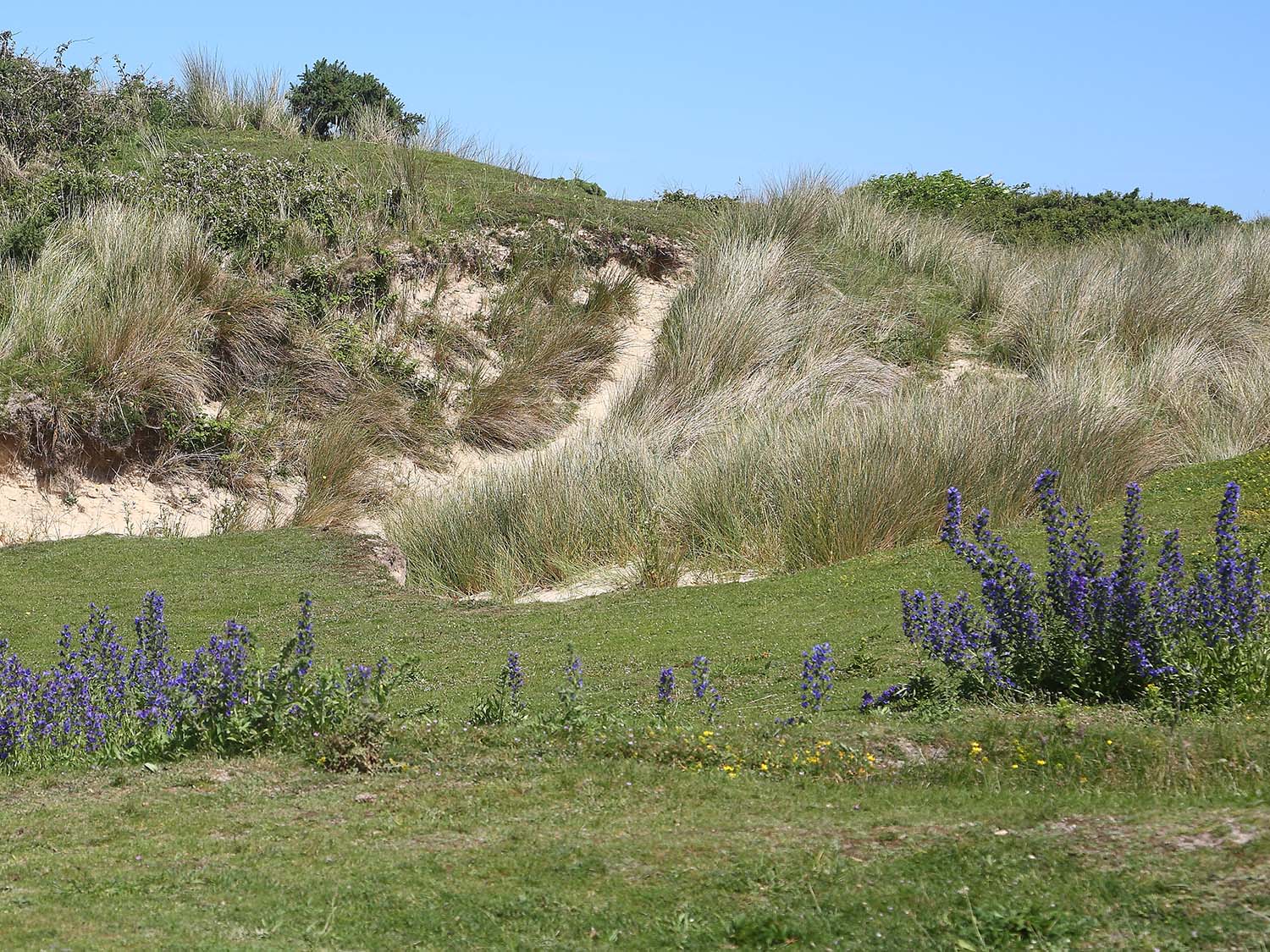 How can you help protect the sand dunes?
Here at ASI we aim to educate and inform and as lovers of the environment we encourage you to be custodians of your coastal areas.
To protect the sand dunes, do not walk, picnic, ride bikes or drive on the dunes as you will destroy the flora and fauna that depend on them. These plants are extremely fragile and once they are damaged the dune will simply blow away.
Stick to designated trails for walking or biking and have your picnic on the beach. Remember to take any rubbish home with you. Bonus points if you pick up some more on the way! Let's work together to protect our beautiful natural playground.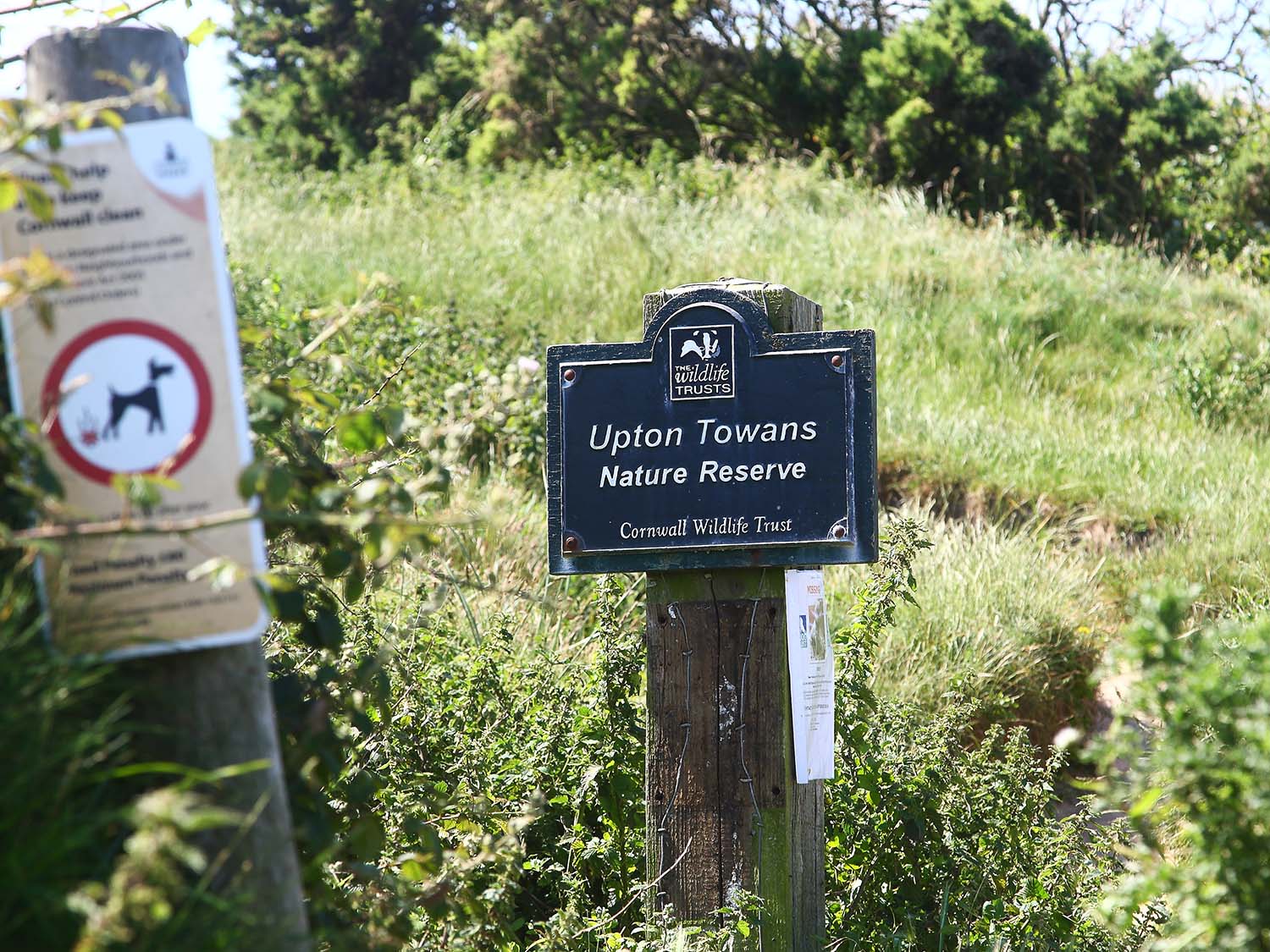 ......................................................................................................................................
About ASI
ASI is a professional membership organisation and international governing body for instructors, coaches and schools in the outdoor recreation industry for surfing, stand up paddle and bodyboarding.
We set the standards for education, accreditation, professional development and ongoing support for our members, offering pathways from entry level to elite level.
International Instructor and Coach Accreditation. You can travel the world with ASI.
ASI Accredited Schools abide by the high international standards for operations, training and safety.
www.academyofsurfing.com
#proudtobeASI, #academyofsurfinginstructors, #asi_academy #ASInstructor
#surfinginstructor #surfcoach #surfschool #surfwise