Course Information
---
Overview: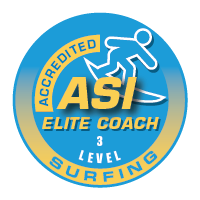 Progress your surfing instructor career and complete the Level 3 Elite Surfing Coach training course. You will need elite-advanced surfing skill and have been an accredited surfing instructor for a minimum of 5 years.

---
Aim:
Coach individuals and groups to improve advanced to elite-advanced level surfing ability.
---
Locations:
Elite-advanced level surf locations in surf over 6ft (2 metres)
---
Career Outcomes:
Surfing instructor in the surfing or outdoor recreation industry.
Industry job roles that require surfing knowledge (e.g. marketing, sales, retail)
---
Topics Covered:
Identify and manage elite-advanced level surfing risks and hazards
Minimise environmental impacts (social and natural)
Emergency processes and response
Assess students elite-advanced level skills and identify areas for training
Prepare individualised training programs for elite-advanced level students
Evaluating surfing lessons
---
Entry Requirements:
Before starting this course, you must:
Have at elite-advanced surfing skill and knowledge level. Able to perform and link advanced level manoeuvres including roundhouse cut-back, floater, snap, vertical re-entry, tube ride, in surf over 6ft (2 metres) at different surf breaks
Hold current ASI Level 2 Surfing Coach certificate.
Minimum of 5 years recent surfing instruction experience.
---
Delivery Options:
The ASI Level 3 Elite-Surfing Coach course can be completed by:
---
Course Requirements:
Delivery Option - Workshop
In order to gain your Level 3 Elite Surfing Coach qualification, you will need to prepare
At the workshop:
Demonstrate your elite-advanced level surfing skills
Complete a written test to demonstrate your elite-advanced level surfing knowledge.
Demonstrate delivery of elite-advanced level surfing drills and coaching sessions for individuals and groups.
After the workshop:
Complete practical projects: prepare an individualised coaching program for two different surfers.
Provide 2 photographs or video, of you performing elite-advanced level surfing manoeuvres, at different surf breaks
Before or after the workshop, provide copies of:​
Personal identification (e.g drivers licence or passport)
Surf Rescue certificate and Senior First Aid certificate, OR Lifesaving (Combined Rescue & First Aid certificate).
Surf Rescue: Date of certificate is no more than 2 years old from date of completion (or 1 year old for Australia) Find Approved Surf Rescue Training Providers
Senior First Aid: The certificate date must be no more than 3 years old from date of completion. Find Description and Approved Senior First Aid Training Providers​
Completion:
You have 12 months from date of workshop to complete all course requirements.
Duration:
Workshop: 1 day
Plus: post workshop projects
---
What we provide:
Level 3 Surfing Coach Training Manual
Level 3 Assessment & Competency Record Book
ASI Learn to Surf Advanced Level manual
Use of the ASI Level 3 Surfing Coach logo
12 months membership
---
Equipment:
Equipment required to complete the training:
Suitable surf clothing
Fibreglass surfboard to demonstrate elite-advanced surfing skills.
---
Certificate issued:
ASI Level 3 Elite Surfing Coach
(valid for 12 months from date of workshop)
---
Additional certificate issued:
n/a
---
FAQs:
Do you have a question? See the FAQ's page: click here
---
Enrolment