Course Information
---
Overview: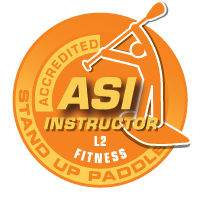 This combined Level 1 & 2 course is designed for fitness professionals. It provides the knowledge and skills to safely deliver and design fitness exercises on a SUP Board in the water.
It's an exciting way to work out. The SUP board challenges and intensifies even the basic fitness moves improving your balance, core stability, strength and cardiovascular system. Challenge your clients by using resistance bands and SUP fitness circuits.
---
Aim:
Conduct stand up paddle fitness sessions with basic to intermediate-advanced exercises, including using resistance bands.
---
Locations:
SUP fitness locations are defined as:
inland waters or coastal locations with flat water, no swell or breaking waves
miniminal or no wind
free from hazards
no more than 50 metres from shore
water depth no more than 4ft
---
Career Outcomes:
Stand Up Paddle Fitness Instructor within the stand up paddle industry or outdoor recreation industry.
Industry job roles that require SUP Fitness knowledge (e.g. marketing, sales, retail)
---
Topics Covered:
Level 1 SUP Fitness

SUP fitness locations, hazards & risk management
Client safety management techniques
Emergency processes and response
Learn a range of fitness exercises - cardio, core, strength, toning, balancing modified for basic / beginners SUP fitness
Develop SUP fitness programs to suit your client base
Demonstrate delivery of SUP fitness programs
Identify suitable SUP fitness equipment, including anchoring systems
Evaluate own SUP fitness instruction techniques

Level 2 SUP Fitness

Learn a range of fitness exercises modified for intermediate-advanced SUP fitness.
Learn SUP resistance training exercises with the use of resistance tubes/bands.
Provide SUP cardio moves giving you that aerobic workout
Develop a range of high end SUP fitness workout programs including: SUP circuits, SUP tums bums, Resistance training, Interval training SUP Abs
Create intermediate-advanced core workout sessions with the use of resistance tubes and paddle
Demonstrate delivery of intermediate-advanced SUP fitness programs.
---
Entry Requirements:
Before starting this course, you must:
hold a recognised fitness qualification. (eg Reps Level 2 or Certificate IV in Fitness issued by an RTO or equivalent).
have completed a minimum of 20 hours on water SUP paddling
have completed a minimum of 10 hours SUP fitness practice
have basic paddling skills and be able to paddle safely, with confidence and correct technique in enclosed flat water locations.
---
Delivery Options:
The ASI SUP Fitness Instructor Level 1 & Level 2 course can be completed by:
---
Course Requirements:
Delivery Option - Workshop
This intensive 2 day workshop will focus on completing the major components of the course.

Workshop course requirements:
To receive your Instructor certificate you need to:
At the workshop:
Complete workshop theory assessments.
Demonstrate SUP Fitness session delivery and safely perform SUP fitness exercises
After the workshop:
Complete 10 hours assisting in SUP Fitness sessions (at an ASI accredited or other approved SUP school or by personal practice). (Exemption: recognition of previous experience can be provided).
Submit paddling video demonstrating basic correct paddling technique (free assessment)
​Before or after the workshop, provide a copy of:
Note: You can enrol in the ASI SUP Rescue and ASI SUP Wise courses at the same time as completing this SUP Fitness Instructor course.
Demonstrating competency:
If you are not able to demonstrate ability to safely perform SUP fitness exercises, you can resubmit one additional video for assessment for free.
Duration:
Workshop: 2 days (16 hours)
plus post workshop practical hours work experience
You have 12 months from date of workshop to complete all course requirements.
---
What we provide:
ASI SUP Fitness Instructor Level 1 & Level 2 manual
Logbook
Access to ASI correct paddling technique video (16 mins)
Use of ASI Level SUP Fitness Instructor logo
12 months membership
---
Equipment:
The following equipment and clothing is required to complete the training:
SUP flat water stand up paddle board
Paddle
Coiled leash (leg-rope)
SUP clothing suitable for SUP fitness
---
Certificate issued:
ASI Level 1 & 2 Stand Up Paddle Fitness Instructor certificate
(valid for 12 months from the date you attended the workshop)
---
Additional certificate issued:
-
---
FAQs:
Do you have a question? See the FAQ's page. click here
---
Enrolment