Course Information
---
Overview: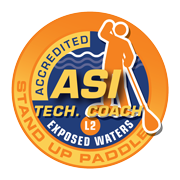 This course is for instructors who hold ASI Level 2 SUP Instructor (Exposed Waters) and would like to provide SUP lessons and coaching to improve technical paddling ability for recreational exposed waters paddling and/or deliver the ASI SUP Wise exposed waters learn to SUP program.
It covers technical analysis of SUP paddling technique, identifying areas of incorrect technique and creating and delivering personal coaching plans for exposed waters locations.
---
Aim:
Deliver and plan stand up paddle lessons and SUP activities and instruct, coach and assess technical skills to improve paddling ability for exposed waters locations.
---
Locations:
Exposed Waters locations are defined as:
coastal beaches and bays
harbours and large inland bodies of water greater than 1 km (0.6 miles) wide
shore break up to 1 ½ feet
swell size up to 2ft
no breaking waves
wind speed less than 12 knots, offshore wind less than 10 knots
water depth no less than 3ft
free from hazards
no more than 250 metres from shore
---
Career Outcomes:
Stand Up Paddle Instructor in the SUP or outdoor recreation industry.
Industry job roles that require SUP knowledge (e.g. marketing, sales, retail)
---
Topics Covered:
Create individualised SUP lesson plans for exposed waters locations
Assess paddling technique and provide feedback
Identify correct and poor paddling technique
Create personal coaching plans to correct poor paddling technique
Deliver ASI SUP Wise Exposed Waters learn to SUP certificate course
---
Entry Requirements:
Before starting this course, you must:
Have completed a minimum of 100 hours on water paddling in exposed waters locations
Hold ASI Level 2 SUP Instructor (Exposed Waters) certificate
Paddle with correct technique, with power and safety in exposed waters locations, demonstrating: vertical shaft and blade fully buried at paddle entry / correct posture with hinging at hips / paddling straight with board moving forward with power (20-30 strokes per minute) / correct tracking and no yawing / negotiate swell (not breaking waves) - into swell, alongside swell, with swell / perform step back pivot turns - heel side and toe side
English speaking skills equivalent to IELTS 6 (Competent user: Generally you have an effective command of the language despite some inaccuracies, inappropriate usage and misunderstandings. You can use and understand fairly complex language, particularly in familiar situations.)
---
Delivery Options:
The ASI Level 2 SUP Technical Coach (Exposed Waters) course can be completed by:
---
Course Requirements:
Delivery option: Flexible learning
To receive your ASI Level 1 SUP Technical Coach (Enclosed Flat Water) certificate you need to:
Complete video assessments and coaching plans, being:
Provide personal SUP paddling video and self assess paddling ability using the ASI paddling assessment form, in exposed waters.
Complete 2 paddling video assessments, exposed waters, provided by ASI
Complete coaching program for 2 different students, exposed waters, of your choosing with video submitted for each person.
Prepare an ASI SUP Wise Learn to SUP program (exposed waters) for your location.
Demonstrating competency:
If you are deemed not yet competent, you can submit evidence again for free. Additional assessments are charged at $50 per assessment.
Duration:
Complete this course in your own time and submit evidence to ASI for assessment.
You have 12 months from date of enrolment to complete all course requirements.
---
What we provide:
Level 2 Stand Up Paddle Technical Coach (Exposed Waters) Evidence Book
ASI membership valid for 12 months
---
Equipment:
Equipment required. SUP Board, coiled leash, paddle. Video camera.
---
Certificate issued:
ASI Level 2 Stand Up Paddle Technical Coach (Exposed Waters) Certificate
(valid for 12 months from the date you enrolled)
---
Additional certificate issued:
-
---
FAQs:
Do you have a question? See the FAQ's page. click here
---
Enrolment