Course Information
---
Overview: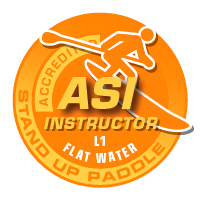 It's the best job in the world! Combine your love of stand up paddleboarding with a career. Follow the seasons and work around the world.
An ASI stand up paddle instructor is part of the ASI worldwide community. Your qualification is international. You get to work with great people in amazing locations.

---
Aim:
This is the entry level course for SUP instructors. Deliver basic SUP lessons, short SUP paddle tours and SUP rentals in enclosed flat water locations.
---
Locations:
Qualified to instruct at Enclosed Flat Water locations, defined as:
inland waterways and bodies of water including creeks, rivers, lakes, lagoons, estuaries, canals
no wider than 1 km (0.6 miles)
with no swell or breaking waves
wind speed less than 12 knots
no more than 250 metres from shore
---
Career Outcomes:
Stand Up Paddle Instructor in the SUP or outdoor recreation industry.
Industry job roles that require SUP knowledge (e.g. marketing, sales, retail)
Pathways to higher levels like SUP Tech Coach or to become a SUP yoga teacher, a SUP surfing coach or perhaps a SUP fitness instructor.
Start your own ASI accredited SUP school.
---
Topics Covered:
The role of the SUP instructor
Identify laws and regulations that apply to conducting SUP lessons
Identify enclosed flat water SUP lesson/activity risks and hazards
Emergency processes and response
Logistics and how to plan enclosed flat water SUP sessions
Suitable boards, equipment and resources
Communication skills for the SUP environment
Methods to manage clients safely
Deliver basic SUP lessons and SUP activities
Understand correct paddling technique including the 5 phases of the paddle stroke
Identify correct and incorrect technique using ASI assessment competency guide
Use video analysis to assess your own paddling ability
Evaluate your own SUP teaching sessions
Minimise environmental impacts (social & natural)
---
Entry Requirements:
Before enrolling in this course:
have at least 100 hours on water SUP paddling experience
be a competent paddler demonstrating correct SUP stroke technique
have completed or are completing the ASI SUP Wise Intensiv (Enclosed Flat Water) course
have English speaking skills
---
Delivery Options:
Workshop: An intensive course that focuses on the major components, with the ability to interact with the trainer and the group.
Duration: 2 days.
Online: Study in your own time with ASI's e-learning platform. Upload video to demonstrate skills.
Online Courses - ASI's E-learning Platform
ASI's e-learning platform provides access to training manuals, videos, reference materials and assessments. Access is available for all the above delivery options.
---
Course Requirements:
Complete multi-choice online tests.
Workshop: after the workshop
Online courses: anytime

Demonstrate correct paddling technique and paddle stroke technique.
Complete paddling mission test -paddle for 1km in under 10 mins.
Workshop: video taken by trainer, and feedback provided at workshop
Online courses: submit your own video and feedback is provided

Complete 10 hours practical work experience, assisting in the delivery of lessons of tours, at an ASI or approved SUP school.
Other
Submit a current SUP water rescue or surf rescue certificate
Submit a current senior first aid certificate
Working with Children Check: If applicable to your country
Note: above can be provided within 12 months of enrolment.

Time to Complete
You have 12 months to complete all course requirements.
---
What we provide:
Level 1 Stand Up Paddle Instructor (Enclosed Flat Water) Manual
SUP Instruction Logbook
ASI membership for 12 months
---
Equipment:
The following equipment and clothing is required to complete the training:
Flat water stand up paddle board, paddle, coiled leash
SUP clothing suitable for paddling

In addition, for the Online learning option:
Computer or mobile phone to access ASI e-learning platform
Video camera or mobile phone to take video of practical skills and submit online
---
Certificate issued:
ASI Level 1 Stand Up Paddle Instructor (Enclosed Flat Water) Certificate
Valid for 12 months
---
Additional certificate issued:
---
Renewal:
Each year, ASI SUP Instructors renew their ASI SUP Instructor certificates. Renewal requirements. click here
---
FAQs:
How to become an ASI SUP Instructor. click here
SUP Instructor FAQ's page. click here

---
Enrolment