Villa Tranquil Bali
Villa Tranquil, Balian, Bali Indonesia is deluxe accommodation villa, with 3 guest rooms. It's located at one of Bali's more secluded good quality surfing spots.
Balian is on the west coast of Bali, about 50 kms (1½ hours drive from Kuta and 20 minutes before Medewi. 
Balian is a sacred and spiritual place. The word 'balian' means white magic or positive energy and people also come here to meditate, relax and rejuvenate.
The villa is located minutes from the surf break and has amazing 360 degree views to the ocean, palm tree fields, sacred river and distant mountains.
Treat yourself to a tropical location holiday away from the tourist crowds. Individual rooms are available for rental as well as the whole villa. Deluxe accommodation at a very good price.
RATES
Guest Rooms
Garden guest room - king bed AUD $45
Downstairs guest room - 2 x single beds AUD $45
Upstairs guest room - extra size king bed AUD $60
Whole Villa Rental
1 night: AUD $350 per night
Weekly (7 nights): AUD $2,000 per week
Monthly: AUD $7,000 per month
Note: Maximum of 6 guests for whole villa rental.

Price includes:
All taxes and charges. Australian dollars.
Two people per room
Air conditioned room, TV and DVD, writing desk, safe, ensuite bathroom with hot water
Cable TV (full channels) upstairs room only
Wifi
DVD movies library
Complimentary coffee/tea
Kitchen and laundry facilities
400 count bed linen, bath & pool towels
Maid service - daily room and villa cleaning
Onsite manager
Check out time: 12.00 pm

Extra Services:
Airport / other location pick-up / delivery (one way): AUD $60
Tours and massage can be organised when you arrive at villa.
 
Enquiry
Enquire here to check availability.
 
Email:  info@academyofsurfing.com
Mobile / SMS: +61 410 633 769
Reservation Fee
For individual rooms - one night rental price
For whole of villa - 25% of total price
Remaining full payment is required one month prior to arrival.
Payment accepted by: credit card (Visa, Mastercard, Amex), EFT bank transfer.

Refund policy
If refund is requested 30 days prior to reservation date:
Individual room-one night deposit non-refundable
Whole villa: 50% of deposit paid non-refundable.
No refund if cancellation is made less than 30 days prior to reservation date.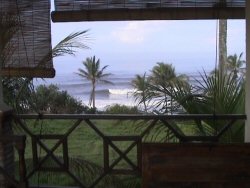 Location
Balian is on the west coast of Bali. It is 50 kms from Kuta or about 1 and half hours drive from Denpasar and about 20 minutes before Medewi.
The drive from Denpasar takes you past Tanah Lot, through the large city of Tabanan, and smaller villages including Bajera then onto Lalanglinggah where Balian is located. You will see beautiful countryside, flowing rivers and Balinese villages and lifestyle along the way.
Balian is a small village with a river and palm trees all around. Cows graze in the fields, chickens walk freely around and life is relaxed and calming. The surf is uncrowded. You don't need a car, you can walk around taking in the beautiful surroundings and village life
According to the local Hindu villagers, the river Balian is very sacred. The word 'balian' means white magic or positive energy. It is said that the river Balian has the power to remove black magic or negative energy
With gentle hills and the sacred river flowing into the sea, you can feel your negative energy drain away and leave you with a sense of peace and tranquility.
The Villa 
The villa is two stories with 3 guest rooms. It has been architectually designed to capture the best of balinese tropical living, western comfort and the amazing ocean and palm trees and mountain views

The villa is located right on the surf break. You dont even have to leave the villa to check the surf conditions. It's only a few minutes walk to the beach
There is an onsite manager, to ensure you are looked after.
Each guest room has its own entrance and keys, large modern en-suite bathroom with electric hot water, air conditioning, Cable TV and DVD player,wi-fi, writing desk, safe,400 count bed linen and pool towels.
Garden guest room: Separate from the house. King size bed. Double doors opening to the pool plus views to the palm trees and mountains.
Downstairs guest room: Two single beds. Views to the pool, palm trees and mountains.
Upstairs guest room: Extra king size bed. Amazing direct views to the ocean and mountains.
The bottom and top floors have open living areas with lounges and table/chairs. Both levels have amazing views of the ocean and/or surrounding fields and mountains. Even when it's raining, you can still relax and enjoy the view from these living areas.
Kitchen facilities include fridge with ice-maker, kettle, stove with oven and cooking utensils. There is a laundry with automatic washing machine and iron.
The salt water swimming pool is 7.5 metres by 4 metres and 2 metres deep. There is a shallow sun-baking water area ideal for cooling off or working on your suntan.
Complimentary Wifi and DVD movies are provided for your enjoyment as well as coffee/tea and laundry detergent.
Rooms and the villa are cleaned daily.
We can assist with the organising of tours, car and driver, airport pick-up/delivery, car / bike rentals, shopping, massage and beauty and other services as required.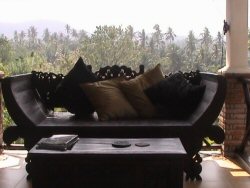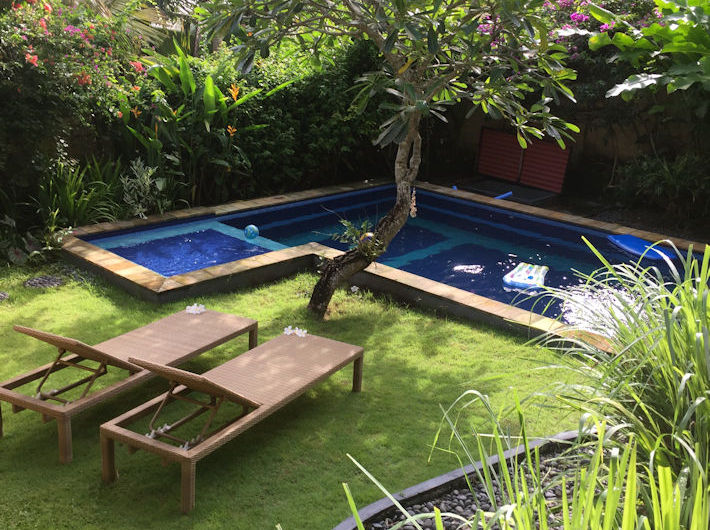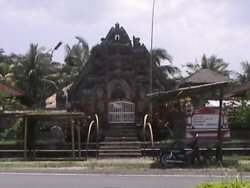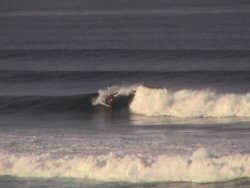 Activities 
Balian is a great place to relax, surf and explore.
Walks:  Balian is ideal for walking and taking in the natural beauty. Explore the river and the coast, the natural caves, the serpent rock and the cliff top trails as well as the local village. Guided walks are provided by the local Balinese.
Surfing: Surfing is a popular activity at Balian. The waves are excellent and suitable for intermediate to advanced surfers.
Tours: Balian is a central location should you wish to see more of Bali. Take one of the many personalised tours. Available in 2 hour, half day or full day tours.
Tours include: local beaches and temples, local fishing villlage with fish markets, Bat cave at dusk with hundreds of bats flying out to sea, Volcanic Bedugal mountain lake, Tanah Lot temple, Alaskedeton, monkey and bat forest, Medewi surf break, Bunut Bolong ancient tree forest, Ubud - renowned for its artists and silver and shopping, see a Barong dance, the sacred Mother Temple at Besakih at the foot of Mount Agung, the Rambut Siwi Temple near Medewi surf break, Tabanan hot springs and rice padi's, visit a 'balian' a balinese spirital doctor
Other activities:
Fishing. Yoga classes. Aternative health consultations., Massage and beauty.
Book a massage, hair and nail treatments with the healthiest of essential oils.  Daily yoga sessions are held at the Shankari yoga centre.
Relax in the warungs and cafes. These are central meeting spots. Meet other tourists and the locals, play a game of chess, cards, table tennis.
 
Surfing 
Balian is a river mouth surf break which breaks over large river stones and submerged reef.
There are 3 main waves - 2 rights and one big left.
The left and right forming off each peak as it comes in. Take your choice. There is also a right at the river mouth.
There is always a good channel and current to get you out and around on the main left.
The right handers often have the better form with some tubing and hot dog sections.
The waves can break from 300 to 500 metres out depending on the swell size. The bigger the swell the further out it breaks.
Waves are best between 3 ft up to 10 ft.
Average length of wave is between 100 to 200 metres.
There is a large surfing area. No crowds and friendly locals.
Is suitable for intermediates and above.
Best from March to November.
20 minutes down the road is decent surf break at the village of Medewi. It is a left with good form breaking over river stone rock bottom. Length of the ride can vary between 50 to 150 metres depending on the wave. Best ridden between 3 to 6 ft with an incoming tide.

Shopping 
The village square is a 10 minute walk from the Villa Tranquil.
You can buy a range of food and drinks that cater for the local balinese - including beer, softdrinks, toiletries, bread, jams, chocolate, stationery, general household items, clothing, footwear, etc. Fresh fruit and vegetables from the local area can also be purchased.  However, there are no tourist shops here.
Telephone. You can purchase pre-paid charge cards for your mobile phone. Coverage is excellent.
Internet: Internet is available at the villa. Wireless internet is available at the cafes & warungs.
Medical: There are local chemists, a Balinese doctor and a dentist. The closest hospital and emergency are at Tabanan (about 30 minutes drive).
Banking: There is no money exchange in Balian. There is an ATM however it is not always open. The closest ATM is in Bajera - 15 minutes drive. However, not all cards work on these ATM.
Dining: There are a small number of warungs / restaurants within minutes walking distance from Villa Tranquil.  The food from these places are generally well prepared and safe to eat.  They offer excellent value for money making it affordable to eat out for breakfast, lunch and dinner.